Johnny Chan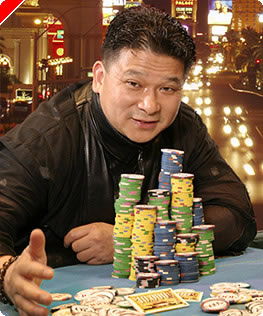 As one of the most successful and well known poker players in the world, Johnny Chan sits at the top of the leader boards for the most all time tournament wins and cashes. Chan is a multiple bracelet winner at the World Series of Poker, and has also seen immense success in events such as NBC's Poker After Dark program. His tournament winnings are believed to surpass $7,000,000.
Chan himself attributes much of his success to his Asian heritage, because at the start of his poker career most of his opponents gave him very little respect. Most fans recognize Johnny at the table by his signature orange, which he uses as a good luck charm and occasionally as a card protector. This article is going to discuss Chan's early life, his poker career, and his major tournament wins.
Chan's Early Life
Johnny Chan was born in Guangzhou, China in 1957, making him 52 years old. His family later moved from Guangzhou to Hong Kong for a couple years, before eventually moving to Phoenix, Arizona in 1968. Chan's family owned a restaurant in Phoenix, and Johnny always envisioned taking over the family restaurant once he was old enough. However, after taking a vacation to Las Vegas when Chan was 16, he realized his true calling.
After graduating high school in Arizona, Johnny went to college at the University of Houston, where he majored in hotel and restaurant management. While studying the hotel business, Chan realized that someday he would like to own his establishment, perhaps a casino. After a few years of school, Chan decided that college wasn't in his best interests, and dropped out to become a professional poker player.
Chan's Poker Career
Johnny Chan was the first Asian player to achieve widespread success at the poker tables in the USA, and his success brought thousands of other Asians to the Hold'em tables. Although Johnny believes he is a better cash game player than tournament player, his real fame and success have come at the World Series of Poker, where he has won ten bracelets. Chan's ten bracelets trail only Phil Hellmuth, who holds eleven bracelets.
Chan's real claim to fame is his victories in back to back WSOP Main Events in 1987 and 1988. Only a handful of players have ever won back to back WSOP Main Events, and nowadays it is considered a virtually impossible feat, as the player fields have exploded in size. Here is a list of Johnny's ten WSOP wins:
1985 $1,000 Limit Hold'em Event for $171,000
1987 $10,000 No Limit Hold'em World Championship Main Event for $625,000
1988 $10,000 No Limit Hold'em World Championship Main Event for $700,000
1994 $1,500 Seven Card Stud Event for $135,600
1997 $5,000 Deuce to Seven Draw Event for $164,250
2000 $1,500 Pot Limit Omaha Event for $178,800
2002 $2,500 No Limit Hold'em Match Play Event for $34,000
2003 $5,000 No Limit Hold'em Event for $224,400
2003 $5,000 Pot Limit Omaha Event for $158,100
2005 $2,500 Pot Limit Hold'em Event for $303,025.
These wins (along with his 31 other WSOP cashes) leave Johnny with over $4,000,000 in WSOP winnings.
Chan has also been very successful in the Poker Superstars Invitational Tournament, taking second place to Gus Hansen in February of 2005, and then winning the Superstars Invitational II in summer of 2005 for the $400,000 first prize. Chan has also done well in NBC's Poker After Dark. This tournament features a winner-take-all prize pool which Chan has won three separate times. He defeated Chris Moneymaker in 2007, Phil Hellmuth in early 2008, and Patrik Antonius in late 2008. Chan's career live tournament winnings are believed to be over $7,000,000.
Johnny's Personal Life
Johnny now owns his own fast food restaurant chain in the Las Vegas Stratosphere Hotel. He does consulting work and has affiliations with major casinos and restaurants throughout the town. He also has written poker articles for major magazines including Card Player Magazine. Chan was featured in the movie Rounders, where he had scenes from the 1988 Main Event, as well as a cameo appearance where Matt Damon bluffed Chan out of a hand.
More Live Tournament Pros: