Mike Sexton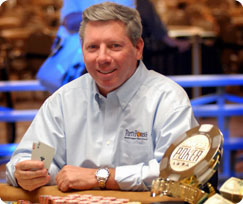 Most players that watch poker on TV and follow major tournaments are very familiar with Mike Sexton. Sexton has been involved in the poker industry for 20 years, and continues to not only be a professional player, but one of the games most important promoters. Sexton does commentary for the World Poker Tour, and plays events at the WPT and the World Series of Poker.
Sexton began his poker run early in life while attending college. He is involved with a number of different poker verticals including magazines, television shows, and commercials. Mike has been loved for his kindness towards other players, simplicity, and keen sense for reading his opponents and their hands. He has obviously been very successful playing poker, and has decided to donate the majority of his winnings to charities and the less fortunate all over the world.
Sexton's Early Life
Mike Sexton went to college at the Ohio State University in Columbus on a full scholarship for gymnastics. He started out studying business, but then switched his major to public relations. However, everyone knows that Mike actually was earning his poker degree, as he began playing cards with fellow students and friends at school.
After college, Sexton decided to join the U.S. Army and became a paratrooper in the 82nd Paratrooper Division in 1970. When he signed up for the Division they were deployed in Vietnam, but by the time Sexton finished his training the unit had returned home, so Mike never had to see live action in the field.
During his term in the Army Sexton began one of his now favorite activities, ballroom dancing, as one of his fellow paratroopers taught him the art. This friend also pressured Sexton into a sales job, which he took and kept for about two years after leaving the Army.
After this period, Sexton settled down and continued to play poker, but not full-time. Sexton coached little league baseball and enjoyed other activities until 1985 when he moved to Nevada to pursue a full-time poker career.
Sexton's Poker Career
Mike Sexton is now in the top ten of World Series of Poker winnings as he has cashed in forty-four different events for a total winnings sum of nearly $3,600,000. Throughout these forty-four cashes, Sexton earned one bracelet at the 20th Annual WSOP in the Limit Seven Card Stud Hi-Lo Event for $104,400. He also took home the Tournament of Champions at the 2006 World Series of Poker for $1,000,000. Mike then donated half of the money to five different charities around the country.
Sexton has also been extremely successful in the World Poker Tour, winning the Euro Finals of Poker WPT Event Season 1 for $85,190 in February of 2003, the Euro Finals of Poker in March of 2000 for $230,473, and the World Poker Finals in December of 1993 for $40,480.
Sexton as a Promoter
Sexton is actually better known for being a promoter of the game rather than a player. Although he once said, "I consider myself a player first and a commentator second," many fans recognize him as a commentator on nearly all of the WPT Events along with his partner Vince Van Patten. Sexton has truly been an ambassador for the WPT, as he continues to do commentary and is one of the most appealing personalities in poker television.
Mike Sexton is also a spokesman for PartyPoker.com, an online poker room and casino. He has written for various poker magazines including Card Player Magazine, Bluff Magazine and the Gambling Times. He was also one of the founders of the Tournament of Champions at the WSOP.
Sexton has earned the nickname, "The Ambassador of Poker" because of his wide web of affiliations. He continues to play poker less every year because of his business commitments with so many other companies, but it will always remain as one of his favorite activities.
More Live Tournament Pros: