Poker Games and Variations
We have written full articles on all of the most popular poker games, including the rules, betting, history, and variations of games like Texas Hold'em and Omaha poker. Click any of the below links to read our write-ups on each game.
Individual Poker Game Rules
The below links lead to pages that describe the rules of each respective poker game, and will also recommend an online poker site for playing that specific poker variation.
History of Poker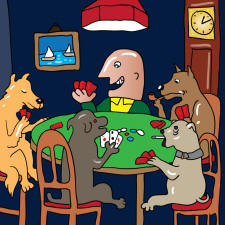 Poker has been around, seemingly, forever. Most players recall the huge poker boom in the last few years, but forget that poker has had a huge presence in the gambling world for over a hundred years, and the game's origins can be traced back even further. Many sources claim that poker originated around the 15th century, and was developed from a German game called Pochspiel.
However, others refute that the game actually originated in Persia and was influenced by the Persian game of Nas. Further more people say that poker actually originated from the French game of Poque. No one truly knows, but as we get closer to modern time there is a more clear timeline of the events.
In 1970 poker really saw its first growth spurt, mainly due to the new World Series of Poker tournaments in Las Vegas. Also, many poker strategy and poker rules books, such as Doyle Brunson's Super System, appeared and got more players into poker. In the 1990's Texas Hold'em was introduced, and got many more people interested in poker because games with community cards are more exciting than draw type games.
What really got poker to blow up was the televising of the World Series of Poker on ESPN beginning in 2003. Chris Moneymaker, a player who qualified through an online satellite, won the tournament and gave PokerStars.com a lot of publicity with his win. This got online poker rolling, and from there it seems like everyone and their mother was playing some form of poker online or at a casino.
Most Popular Poker Games
We have articles on many poker games, but if you want to learn about the most popular games, make sure to read about Texas Hold'em, Omaha Poker, or Seven Card Stud. Whether online or at a live casino, you'll find these three games played the most. The reason Texas Hold'em and Omaha are so popular is because they are often played in No Limit or Pot Limit varieties, so players get a lot of excitement by making bluffs or moving all-in.
If you want to play No Limit Texas Hold'em (the game you most commonly see aired on TV) then make sure to check out FullTiltPoker.com - our top rated No Limit Hold'em site. Full Tilt has both cash tables and tournaments, and you can even practice for free until you get the hang of things.
Other Poker Game Resources:
If you would like to learn more about poker games, check out the sites below:
Online Casino Games
Many of our visitors are not only interested in poker, but also other casino games. Just like poker, casino games can be played online at an Internet casino. If you are new to casino gambling, make sure to read the pages below to learn how to play some of the most popular casino games: