Daniel Negreanu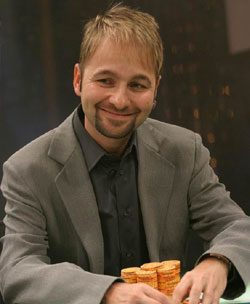 Daniel Negreanu is one of the youngest and most feared poker players in the world. His keen ability to read opponents and somehow call out their hands is remarkable. Negreanu's success in the European Poker Tour, World Poker Tour, and World Series of Poker rank him among the top tournament players in the world.
Daniel started playing poker when he was very young, and grinded at the tables until he became one of Canada's top poker players. He is now well known throughout the world and continues to play major tournaments and the largest cash games available in Canada, Europe, and the USA. Negreanu's name is sure to come up whenever players discuss the most dangerous tournament players in the world.
Negreanu's Early Life
Negreanu's family was originally from Romania, but moved to North American in the late 1960s as the communist regime took over their country. Their original plan was to move to the United States, but they ended up in Toronto, Canada because of immigration and financial issues.
While in Toronto, Daniel began playing poker at the age of 16. He picked up the game in pool halls, and also spent time sports betting and hustling suckers around town; Negreanu always had a knack for making money. He later dropped out of high school, even though he was only a few credits away from graduation. His plan was to become a professional poker player, and as you can imagine, his parents were not happy with his decision. After dropping out, Negreanu continued hustling poker games around town to help pay the bills.
Daniel also met his old girlfriend playing around the town, Evelyn Ng, who would also go on to become a major poker pro. When Daniel turned 21, he immediately left for Las Vegas, Nevada. His first trip was rather rough. The difficult games and high stakes left him with an empty wallet, and soon enough he found himself returning to Toronto to rebuild a bankroll, and possibly to consider another profession.
Negreanu's Poker Career
After his failed Las Vegas trip, Negreanu re-dedicated himself to the game and studied and practiced as much as he could. The work paid off, as Daniel went on to become one of the most successful poker players of all time. Negreanu has won four WSOP bracelets, including wins in the 1998 $2,000 Pot Limit Hold'em Event for $169,460, the 2003 $2,000 S.H.O.E. Event for a total of $100,440, the 2004 $2,000 Limit Hold'em event for $169,100, and the 2008 $2,000 Limit Hold'em Event for $204,874.
His success has been just as great at the World Poker Tour, as he took home the Five Diamond World Poker Classic II for over $1,000,000 and the Borgata Poker Open for over $1,000,000, both wins coming during WPT Season Three. Negreanu also won the 2003 L.A. Poker Classic along with the Legends of Poker Event, The World Poker Finals, The Four Queens Poker Classic, and The United States Poker Championship.
These events put Daniel in third place on the all time tournament earnings list, with over $10,000,000 won. He lags behind only Jamie Gold and Joe Hachem, who have both won a WSOP Main Event. Negreanu is also the all time leading money maker on the WPT Circuit.
Other Activities
Negreanu now resides in Las Vegas, Nevada where he plays the highest stakes cash games on the strip. You can often find Daniel in the Bellagio playing stakes as high as $4,000/$8,000.
Negreanu has earned the nickname "Kid Poker" due to his young age and success. Besides being a fantastic poker player, Negreanu is also an endorser of PokerStars, and does commentary for television shows such as Late Night Poker, Poker After Dark, High Stakes Poker, and the Ultimate Poker Challenge.
Daniel also has written over 100 poker articles for magazines including CardPlayer Magazine, and has contributed to poker books including Super System II. He currently is the main contributor at FullContactPoker.com , and also has his own book titled Hold'em Wisdom for All Players.

Daniel Negreanu is one of the most prominent figures on Team PokerStars, and actively endorses and plays at the online poker room. To play with Daniel, download the PokerStars software and do a player search for "KidPoker", which is Daniel's screen name at the site. If you do decide to sign up, make sure to use marketing code MIK500 to receive a 100% up to $600 bonus when you make your first deposit.
$600 Bonus at PokerStars with Marketing Code: MIK500
More Live Tournament Pros: