Joe Hachem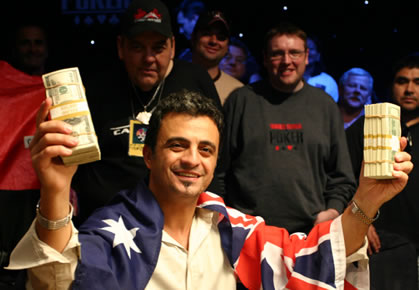 Joe Hachem is most well known for his victory in the 2005 World Series of Poker Main Event. This one tournament changed his life forever; transitioning Hachem from an everyday Joe into a professional poker player. You may recognize Hachem's fans at the poker table, constantly cheering the "Aussie Aussie Aussie, Oy Oy OY!" chant.
Hachem is no one hit wonder, as he has also won World Poker Tour events, and come close in the European Poker Tour. With his massive bankroll from the Main Event win, you can count on seeing Joe at every major tournament in the world.
Hachem's Early Life
Hachem was born on November 3, 1966 in Lebanon. Shortly after, he and his family moved to Melbourne, Australia in 1972, where he acquired his distinct Australian accent. Hachem grew up and went to school in Australia, and then became a chiropractor after graduation. Unfortunately, he had to quickly leave his chiropractor job because of a rare blood disorder that affected his hand's precision.
Hachem's Poker Career
Not long after, Hachem decided to take up a mortgage broker job and play poker semi-professionally in local casinos and online at PokerStars.com. After experiencing moderate success at both the online and offline tables, Hachem decided to get serious about his profession by entering the 2005 WSOP.
Most fans don't realize it, but Joe actually went to the WSOP to play Event #37, which was a $1,000 rebuy tournament. Hachem took 10th place in the event for a $25,850 score, and decided to use a portion of that money to buy into the $10,000 Main Event. If he hadn't cashed in Event #37, Hachem would have never played in the 2005 WSOP Main Event.
The Main Event set new records in 2005 for having the largest player field as well as the biggest prize pool ever. Hachem found himself sitting amongst 5,600 other players, who were all hoping to take home the Main Event Bracelet. After grinding his way through the first few days, Joe barely scraped his way to the final table, entering the final nine as a short stack. In fact, Hachem never had the chip lead until only three players remained.
Joe eventually won the tournament, taking home $7,500,000 and the most prestigious poker title in the world. This win changed Joe's life forever, giving him the opportunity to quit his job and play poker for a living.
Hachem has seen continued success since his first win, as he took home another title on the World Poker Tour in 2006: the Five Diamonds World Poker Classic for over $2,000,000. He was also very successful in the 2006 WSOP Main Event, going out in 238th place after beating 97% of the tournament field that year. He has cashed in nine WSOP events, and three WPT events.
Other Activities
Hachem has been featured on NBC's Poker After Dark, and has final tabled a WSOP Circuit Event. Joe won the World Series of Poker Tournament of Champions II by defeating everyone at the table, including Jamie Gold, Doyle Brunson, and Johnny Chan.
Hachem considers himself one of the luckiest men alive, as all of his dreams have become a reality. But through it all Joe will never lack appreciation for his family, which is most important in his life. He enjoys spending time with his loving family, golfing, watching movies, and having delicious meals in high class restaurants.

Joe started playing online at PokerStars.com, and now professionally endorses and plays exclusively at the site. If you want to watch Joe play poker, or even test your luck by sitting at a table with him, download the PokerStars software and do a player search for "JoeHachem", which is his screen name at the site. If you do sign up, use marketing code MIK500 to receive a 100% up to $600 bonus when you make your first deposit.
$600 Bonus at PokerStars with Marketing Code: MIK500
More Live Tournament Pros: