Best Poker Sites Accepting American Players
Although things aren't as easy as they used to be, there are still plenty of options for Americans looking to play poker online. We have listed the best USA poker sites on this page - every site on this list accepts players from the United States for free money or real money poker play. Make sure to use the referral codes listed for each site in order to receive upgraded sign up bonuses when you make your first deposit.
The USA poker sites listed below are ranked in order based on ease of deposits and withdrawals, as well as best possible bonuses, game variety and traffic. Most of the US poker sites featured here are fairly easy in terms of competition with Lock and BetOnline attracting the most fish. All of the poker rooms accept US bank issued Visas, as well as Mastercard, prepaid debit cards, money transfers and of course, bank wires.
Update - PokerStars and FullTiltPoker.com are no longer open to US players.
If you live in the United States, you can play at any of the US friendly poker sites below, including Bet Online Poker All of the US poker sites featured on this page accept American players, and US deposits (including credit cards).

USA Poker Deposit Methods
Although dozens of other sites accept American players, it can often be a hassle depositing money because of USA laws. The above sites accept the most deposit methods, and some of the more common ones are listed below:
Credit/Debit Cards:
Depending on your bank and credit card provider, you may be able to make a deposit directly to a US friendly poker site using your credit card. This is the easiest and quickest way to get money from your pocket to your poker account. Click here to find out what sites accept Credit Card Deposits.
eCheck:
A lot of online poker sites, allow players to deposit using eChecks. How this works is that you provide your bank's routing number and your checking account number, and then can instantly transfer funds from your checking account to your online poker account. This is another instant form of money transfer, and just like the credit card option, there are no fees involved.
eWallets:
eWallets are getting tougher and tougher for American players. How eWallets work is that you create an online account, then fund the account by a bank transfer or credit card payment, then transfer money from the eWallet to the poker site. However, these are getting all but impossible for players located in the USA. Your best bet is either eCheck or a credit/debit card.
All USA Friendly Deposit Options:

- eChecks

- MoneyGram
Legality of Online Poker in the United States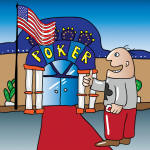 Ever since 2006 there has been a shakeup in the online poker world for United States players. On October 13, 2006 President Bush signed into effect the SAFE Port Act, which was a bill designed to improve security at major ports and docks in the United States.
Now normally, an act designed to improve port security would have no effect on online poker or players trying to play United States poker games. Up until this point every USA friendly poker site had operated with no problems from the government, and everyone was happy (so it seemed).
However, at the last minute a Senator from Tennessee, Bill Frist, attached a section to the bill regarding online gambling and the legality of transferring funds to online gambling sites. This sub-section is called the UIGEA (Unlawful Internet Gambling Enforcement Act).
UIGEA
The UIGEA act was slipped onto the SAFE Port Act at the last minute, and quickly pushed through Congress. The implications of this bill were witnessed immediately, as all publicly held online gambling companies withdrew from the USA market right away. Corporations realized huge financial losses, such as PartyGaming who saw its stock drop over 60% in one single day because of the UIGEA bill. However, many privately held companies such as PokerStars and Full Tilt Poker chose to remain in the USA market, and have made tons of money for doing so.
Although the bill only targets financial institutions who process online gambling transactions, many players interpreted the new law as a total online poker ban. That is not the case; the bill only makes it illegal for banks and credit card companies to process monetary transactions to online poker sites.
2009 UIGEA Update
Targeted enforcement of the UIGEA bill was set to being on December 1st, 2009, but at the last minute the government pushed the date back six months to June 1st, 2010. Many analysts see this as an indication that banks simply cannot monitor every transaction, and refuse to do it. Only time will tell how things shake out for the American online poker market.
Other US Friendly Poker Sites:
Ever since the passing of the UIGEA bill in the United States, it has become increasingly difficult for an American poker player to gamble for money online. However, many poker sites are still USA-friendly, and it is easy to deposit and wager for US players. Basically, most of the privately held companies disregarded the UIGEA, but all of the publicly held poker companies were forced to obey the law and close to American traffic.
Besides our top four US poker rooms, we have reviewed a bunch of other USA poker sites that are great for American players. Here are some reviews of other USA friendly poker sites:
More Country-Specific Toplists: