Johnny Moss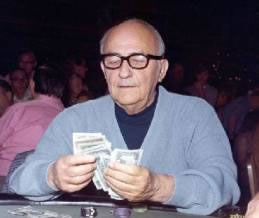 Johnny Moss was widely considered the best player of his era, as he won countless titles and millions of dollars in cash games and tournaments. Known as a true "hustler", Moss would often worry just as much about safely escaping a home game with his money as he would about actually beating the game.
Moss's major success came at the World Series of Poker, where he played an integral role in the event's establishment, and also won the first two Main Events. Moss was considered one of poker's most old-school players, carrying a pistol to poker games to protect himself. In the days of Johnny Moss there was no guarantee you would leave a home game with your winnings, which makes his accomplishments even more amazing.
Moss's Early Life
Moss was born on May 14, 1907 in the town of Marshall, Texas. He was introduced to gambling at an early age, and began visiting saloons often. Moss was taught at a young age how to cheat at poker, and in no time saloons were hiring Moss to pick out cheaters, as he had a keen eye. While observing and protecting the saloons from cheaters, Moss learned the game and practiced. In no time Moss became a rounder, earning a living at the local games.
The most impressive thing about older players like Moss is the fact that they did not have access to many of the resources of players today. Moss did not have books or magazines that taught poker strategy. He did not have the Internet to look for advice and play online; he developed his own game solely through playing.
Moss's Poker Career
Not only was Moss a rough housed poker kid, he was a successful poker kid. Johnny won the following WSOP events:
1970 World Series of Poker Championship
1971 $5,000 No Limit Hold'em World Championship for $30,000
1971 Limit Ace to Five Draw for $10,000
1974 $10,000 No Limit Hold'em World Championship for $160,000
1975 $1,000 Seven Card Stud for $44,000
1976 $500 Seven Card Stud for $13,000
1979 $5,000 Seven Card Stud for $48,000
1981 $1,000 Seven Card Stud Hi-Lo for $33,500
1988 $1,500 Ace to Five Draw for $116,400.
His first WSOP win was actually a contest in which all the best players simply voted for whomever they considered the best poker player at the time. This voting was considered the first WSOP Main Event to ever be held, and Moss took it home unanimously. Voters included friends such as Doyle Brunson, Amarillo Slim, and Nick the Greek.
One of Moss's most memorable poker moments came in 1949 when he took on Nick the Greek in a five-month long poker tournament set up by Benny Binion. Moss took home somewhere between $2 and $4 million, ending with Nick the Greek saying one of poker's most famous quotes: "Mr. Moss, I have to let you go."
Moss's Legacy
Johnny Moss died in 1995, but he will continue to be one of poker's most famous legacies to ever sit at a poker table. His most incredible feat may not be winning at poker, but rather being such a major part of this enjoyable game, and its joy that has been felt around the world. Players such as Moss are not credited with the respect they deserve.
More Live Tournament Pros: