Jamie Gold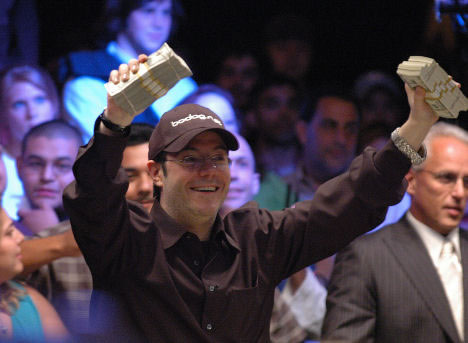 As the recent winner of the 2006 World Series of Poker Main Event, Jamie Gold has made a name for himself in the poker industry. Not only is he known for winning the prestigious Main Event, but also for the controversy that followed. Although Gold tries to avoid the problems that were brought about by his enormous win, they will follow him for a long time.
Gold leads a very busy lifestyle, and in this manor he normally restricts his tournament entries to the major tournaments in the World Series of Poker and World Poker Tour. He wishes to entirely leave the 2006 Main Event controversy behind him, and look into his own bright future.
Gold's Early Life
Gold was born in Kansas City, Missouri, and moved to Manhattan with his mother not long after being born. He ended up going through his early high school years in Paramus High School in New Jersey, as Gold's mother decided to move there with her new husband, Jamie's stepfather Robert Gold.
After graduating high school Jamie enrolled in the State University of New York at Albany in 1991. After graduating in New York he decided to move to California where he would study entertainment law at UCLA. After completing graduate work he interned at J. Michael Bloom & Associates Talent Agency where he became a talent agent by the age of 21. Some of his clients have included Jimmy Fallen from SNL and Lucy Liu.
Not long after becoming a major name in the talent industry, Gold decided to pursue his poker interests and begin playing online. Following the poker boom, Jamie found players to help him improve his game and played as often as he could in between his agency hours and television productions.
Gold's Poker Career
Gold's interest in poker came at an early age as his mother Jane was a keen poker player, and his grandfather was a phenomenal gin and rummy player. Jamie made connections with and was tutored by professionals including Johnny Chan and Chris Moneymaker, who took Jamie's skills to a new level.
In 2005 Gold entered his first major tournament at the Bicycle Casino in Las Vegas, and ended up winning the event for a little over $50,000. Over the next twelve months Gold cashed in seven other tournaments in the state of California, and decided to get more serious about his poker career by entering the 2006 WSOP Main Event.
Controversy at the 2006 WSOP Main Event
Gold outlasted nearly 9,000 players to win the 2006 Main Event, awarding him with the largest single tournament prize in poker history (over $12 million) as well as the prestigious WSOP Main Event bracelet. Throughout the tournament, Gold was scrutinized for his aggressive table talk and enticing challenges at the table.
After winning the tournament, Gold was thrown into an enormous controversy when Crispin Leyser claimed that Gold promised him 50% of his Main Event winnings in exchange for helping Jamie out with a personal business project. Gold claimed that the deal was never official, and was more of a joke between friends.
Leyser proceeded to sue Gold for half of the winnings, and a judge froze the funds in Gold's bank account. Leyser and Gold ended up settling the matter out of court, and the final figure was never released to the public.
Life After the Main Event
Jamie is now commenting on NBC's Poker After Dark, and has been involved in GSN's High Stakes Poker show. Gold is also involved in charity events for the cause of his stepfather's death, Lou Gehrig's Disease. He continues to work and live in Malibu, California. Jamie has played in the WSOP every year since his Main Event win, and also maintains his production company in California.
In 2009, Jamie signed an endorsement deal with Aced Poker, which was a new poker site on the Merge Network. After a few successful months at the company, Jamie left. There has still been no explanation as to why Jamie ended his relationship with Aced Poker.
More Live Tournament Pros: