Ladbrokes.com Poker Review
Ladbrokes is one of the biggest UK poker sites online. With live betting shops all across England, English players know to trust Ladbrokes to offer fair online poker games and safe transactions. Check out their 3D poker software today!
Poker Room:Ladbrokes
Website: Ladbrokes.com
Location:Gibraltar
Established:2000
Bonus Size:100% up to $1000
Bonus Code:

n/a - Use Link

Traffic:1,632 Players Online
Mac Friendly:Yes
Ladbrokes Poker Overview (7.8/10.0):

The Ladbrokes Company dates all the way back to 1886, providing more than a century's worth of distinguished reputability that has lasted the test of time. Originally launched as an online Sportsbook, Ladbrokes quickly expanded into the online poker industry, as well as providing an online casino, online backgammon, and other online gambling venues.
Ladbrokes Poker (www.Ladbrokes.com) hit the web in 2000 and, operating on its own network without the use of a shared player base, gained traffic quickly. Because many of its players are coming over from the Ladbrokes Sportsbook and Casino, the competition is loose and juicy at both ring games and tournaments.
Earlier this year, Ladbrokes Poker switched over from its own proprietary network to the Microgaming Poker Network, which further increased the player volume and tournament schedule by leaps and bounds.
Ladbrokes Poker Software (7.8/10.0):
Ladbrokes Poker runs on Microgaming poker software, which is some of the best online poker software in the industry. There are three versions of the poker client available. The first is an instant-play version, compatible with all operating systems. This instant-play version made our list of best no download poker sites. The other two versions are both downloadable poker clients, compatible only with Windows PC.
The downloadable versions are called "Classic Poker", offering traditional 2D graphics and a user-friendly interface, and "3D Poker", with mind-blowing 3D graphics that rival even PKR Poker's extreme 3D effects. The 3D Poker version is 380MB, recommended only for players with a broadband internet connection due to the heavy load of information. Serious online poker players generally prefer the 2D version for its intense speed and simpler interface.
Ladbrokes 2D Poker
If you decide to use the "Classic Poker" option, you will be treated to smooth game play, multi tabling functionality, and an easy to use player interface. The 2D option is best for most poker players, because the software is simple, game play is smooth, and there are no fancy graphics to distract you from the game. Here is a screen shot of the 2D table: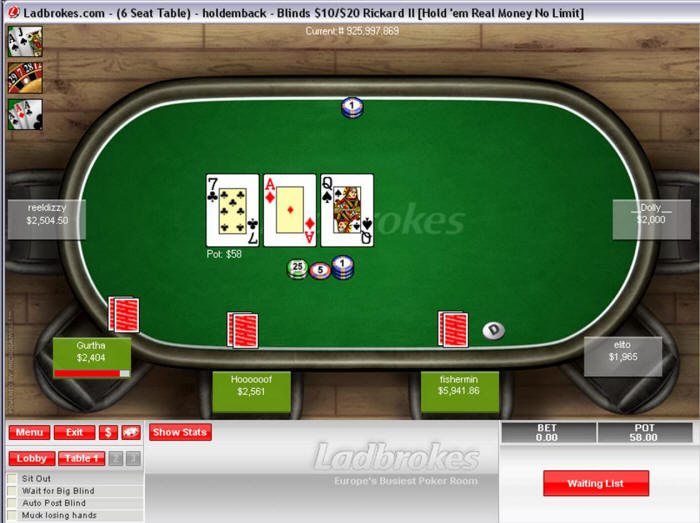 As you can see, the table interface is simple and the layout is clean. The pot size is always displayed in the middle of the table, which makes for easy pot and implied odds calculations. Also, there are no avatars to distract players from the action. If you are new to online poker and want the simplest way to get started, we recommend downloading the Ladbrokes 2D poker room.
Ladbrokes 3D Poker
The 3D version of Ladbrokes Poker offers a different experience, and is best for a different type of player. If you would prefer a dazzling visual experience, and can deal with a slightly slower pace of play, you might want to try out the 3D poker room. Remember that the software is more intensive, so you will need a fairly new computer to play. If you would like to experience stunning 3D poker visuals, download the Ladbrokes 3D poker room.
The Ladbrokes Poker lobby offers all of the vital information needed to find a suitable table:
Average Pot Size
Viewed Flop Percentage
Average Hands per Hour
Seated Player Stacks
In game note taking and personal stats are available. The lobby also keeps track of your raked hands, which is especially handy for bonus clearing.
Multi-tabling runs very smooth even when playing the maximum of eight tables. The mini-view functions are pretty good, displaying up to five tables at once. However, with this many tables viewed, the chat takes up more space than necessary, encumbering a players oriented view of the real action. Learn how to download Ladbrokes poker.
Ladbrokes.com Promotions (8.1/10.0):
Ladbrokes.com offers various promotions including a $1,000 sign up bonus, a refer a friend bonus, and a bad beat jackpot. We will explain each promotion now:
Ladbrokes.com $1,000 Deposit Bonus
Ladbrokes Poker tops its promotional chart with a 100% up to $1,000 welcome bonus based on a player's first deposit. Every dollar you deposit, up to $1,000, will be matched with a bonus dollar provided by Ladbrokes. When you deposit, your deposit money ends up in your Cashier, while the bonus money is held in a separate account. You cannot wager or withdraw the bonus money until you have "cleared" the bonus.
How to Clear the Ladbrokes Poker Bonus
To clear the poker bonus you must earn Ladbrokes poker points (LPPs for short). Here is a table showing how many LPPs you need to earn to clear various sized bonuses:

If you would like to learn how to earn LPPs and more about on the bonus, read our full Ladbrokes poker bonus page.
» Redeem the $1,000 bonus by visiting Ladbrokes.com
$10 Refer a Friend Bonus
Ladbrokes offers an easy way to boost your bankroll and get your friends in on the action. By referring new depositors to the Ladbrokes.com poker room, you receive a $10 cash bonus per player. To invite your friends, simply visit Ladbrokes.com and use the refer a friend form. You can input your friends' emails, and they will automatically receive an invitation to join the Ladbrokes.com poker room. If they sign up and deposit, you will receive your $10 bonus as soon as they make a $10 wager themselves. This bonus has no limit - you can invite as many friends as you want.
Bad Beat Jackpot
Ladbrokes offers special poker tables called "Bad Beat Jackpot" tables. If you choose to play at a bad beat table you will pay a little more rake, and in exchange will have the chance to win a massive progressive jackpot. Bad beat tables charge an extra $0.50 in rake per hand, 90% of which goes into a progressive jackpot.
Here are the rules for winning the bad beat jackpot:
You must be playing at a specified bad beat jackpot table.
Four or more players must be dealt into the hand.
The losing hand must contain four of a kind, eights or better.
The hand must be a raked hand.
The winner and loser of the hand must use both of their hole cards, and the hand must go to showdown.
If all of the stipulations are met, 70% of the jackpot is distributed as follows: 50% goes to the loser of the hand, 25% goes to the winner of the hand, and the remaining 25% is split between the other players in the hand.
The remaining money is used to start the new jackpot (20%) and the rest goes to Ladbrokes (10%). To get in on the action, and have a chance at the massive bad beat jackpot, sign up at www.Ladbrokes.com.
Ladbrokes.com Poker Games (7.6/10.0):
Ladbrokes Poker offers all of the poker games you would expect from an online poker room, except for Seven Card Stud Hi-Lo. Besides that, they offer Texas Hold'em, Omaha, Omaha Hi-Lo, Five Card Draw, Seven Card Stud, Five Card Stud, and Razz. Most games are offered in No Limit, Pot Limit, and Fixed Limit varieties, and you can also choose between ten-handed, six-handed, and heads up tables.
The most popular poker game at Ladbrokes Poker is No Limit Hold'em. Stakes start at $0.02/$0.04, and run up to $50/$100. However, at the time of this writing the biggest game running is $25/$50. Other games have less traffic, but you can still always find a table running regardless of the game type or betting variation.
As I mentioned before, the competition at Ladbrokes is pretty soft, especially at the lower stakes tables. Most players at the Ladbrokes poker room wandered over from the online sportsbook or online casino, so they don't really know poker. You can make a great profit grinding at the middle limit ring games by taking advantage of these players.
Ladbrokes Poker Tournaments (7.5/10.0):
Ladbrokes has a well structured tournament schedule with regular events to suit any bankroll. Buy-ins start at $1 raining up into the hundreds for the bigger prize pools. The largest weekly guarantee is $100,000, held every Sunday. Monthly events offer guaranteed prize pools of $150k and $250k. Win a seat in the largest events at Ladbrokes Poker by playing daily satellites for a fraction of the direct buy-in.
Although the tournament traffic at Ladbrokes doesn't compare to bigger sites like PokerStars or Full Tilt Poker, there are still plenty of tournaments that will suit all players.
Ladbrokes.com Poker Rewards (7.8/10.0):
Ladbrokes has a four tier VIP system that rewards loyal players for earning Ladbrokes Poker Points. Every time you generate $1 in rake at a cash table, or pay $1 in tournament fees, you earn 10 LPPs. As you earn LPPs, you climb the VIP scale and become eligible for more and more rewards. Here are the rewards and monthly point requirements:

All players start as Bronze level members, and can climb the scale immediately by earning 500 LPPs.
Ladbrokes Support Team
Ladbrokes offers 24/7 support via email and telephone, and their support reps are knowledgeable and friendly. There is also a large FAQ section that can instantly answer quite a few of your questions. Each support rep we talked to spoke clear English and was able to quickly answer our questions. We give a thumbs up to the Ladbrokes support team.
Ladbrokes Deposit and Withdrawal Options
Here are all of Ladbroke's deposit and withdrawal options.
| | |
| --- | --- |
| Deposit Options: | Withdrawal Options: |
| Credit Card, Debit Card, Cashier's Check, Money Order, Banker's Draft, Personal Check, Bank Wire Transfers, Quick Pay, NETeller, PayPal, Ukash, eNETS. | Cashier's Check, Money Order, Banker's Draft, Personal Check, Bank Wire Transfers, NETeller, PayPal. |
All of the deposit and withdrawal options are only available to non-American players.

Thank you for reading our review of the Ladbrokes.com poker room. If you like what you read, you can get started by heading over to www.Ladbrokes.com. Remember that Ladbrokes offers three options for poker players - the standard 2D poker room, the advanced 3D poker room with spectacular graphics and game play, and the instant-play flash version that is perfect for Mac players who cannot download the Windows poker software.
Also, if you decide to sign up and deposit soon, you will receive the 100% up to $1,000 Ladbrokes poker bonus. Ladbroke's bonus is one of our favorites because it is relatively easy to clear compared to other online poker bonuses. Also, the Ladbrokes VIP program makes sure you'll stick around to receive all the rewards and perks of the program. Good luck!
$1,000 Bonus at Ladbrokes Poker through this link