Scotty Nguyen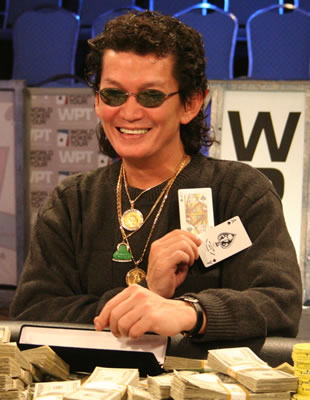 Scotty Nguyen has not only five World Series of Poker bracelets, but also one of the best known personalities in poker. His unique playing style, along with his antics and famous quotes, make him one of the most widely recognized professional players as well as one of the most interesting players to watch on TV.
By the age of 23 Nguyen had already made a name for himself in the poker world, but things weren't always so easy. In fact, Scotty may have had one of the toughest upbringings of any poker professional. This article is going to examine Scotty's early life, his poker career, and will also list Nguyen's major tournament wins.
Nguyen's Early Life
Scotty was the first of thirteen children in his family, and was born on October 28, 1962 in Nha Trang, Vietnam. Things were hard for the Nguyens in Vietnam, and Scotty hoped to someday move to the United States. At the age of fourteen, Nguyen left Vietnam and moved to Orange County, California.
Scotty enrolled in a public school, but was soon kicked out as he spent too much time playing in underground poker games and not enough time studying. After a few years of grinding low-stakes poker games, Nguyen decided he wanted something more stable and went to dealer's school in Las Vegas. After completing dealer's school, Scotty was hired to deal at Harrah's poker room. He would deal during the day, and then lose most of his earnings playing poker at night. Nguyen described himself as a "fish" at this point in his career.
Nguyen's big break came in 1985 when he was invited to deal a NL Hold'em tournament at Lake Tahoe. He would deal during the day, and play poker at night, but this time he was finally winning. After Scotty's first taste of success at Lake Tahoe, he returned to Las Vegas with a new determination, and quickly turned his meager $7,000 bankroll into over $1,000,000 - an astonishing feat.
However, success was always a struggle for Scotty, as he ended up getting into marijuana, cocaine, alcohol, and other hard drugs. He completed one of the biggest roller coasters in history by losing all but $5,000 of his million dollar bankroll in only a few months' time.
Nguyen's Tournament Wins
With only $5,000 in cash, Scotty quickly cleaned his life up and started rebuilding his bankroll. Although he still has an occasional downswing, Nguyen has enjoyed a very successful poker career. Here are some of Scotty's biggest tournament wins from over the years:
1997 WSOP $2,000 Omaha Hi/Lo Event for $156,959
1998 WSOP $10,000 Main Event for $1,000,000
2001 WSOP $2,500 Pot Limit Omaha Event for $178,480
2001 WSOP $5,000 Omaha Hi/Lo Event for $287,580
2006 WPT $10,000 World Poker Open for $969,421
2008 WSOP $50,000 HORSE Event for $1,989,120
Some other notable finishes for Nguyen include an 11th place result in the 2008 WSOP Main Event for $500,000, a runner up finish in the 2007 Seven Stud Hi Lo WSOP Event, and six other WPT final tables. Scotty is one of only five players who have won both a WSOP and WPT event, and is the only player to win both the WSOP Main Event and the $50,000 HORSE event. His total live tournament earnings exceed $10,700,000, with about $4,700,000 of that money coming from WSOP tournaments.
2008 WSOP HORSE Event Criticism
Scotty has received harsh criticism for his behavior at the 2008 WSOP $50,000 HORSE event, as he drunkenly berated other players at the table and used foul language almost non-stop. After the event Nguyen issued an apology to his fans, and explained that pressure to win causes his outbursts.
More Live Tournament Pros: