Chris Moneymaker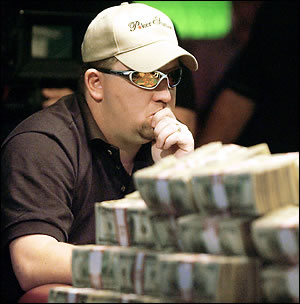 Chris Moneymaker has been widely recognized for his Cinderella story of a poker career. Although many players still scrutinize Moneymaker's poker skill, he has proven himself over and over by going deep in big tournaments year in and year out. There is no doubt that he will continue to enjoy his poker career even though many players may not respect him as much as he wishes.
The name "Moneymaker" is incredibly interesting as well, especially when you have recently joined the ranks of the most skilled poker players in the world. This article is going to take a look at Chris Moneymaker's personal life, his poker career, and the fascinating story of going from an online qualifier to WSOP champion.
Moneymaker's Personal Life
Chris Moneymaker was born in 1976 near Nashville, Tennessee, to two loving parents who supported every move he made. He attended high school in Farragut, Tennessee and later earned an Accounting degree at the University of Tennessee where he was a member of the Pi Kappa Phi Fraternity. Moneymaker owns a home in Tennessee, but often stay in Las Vegas where he can play the big cash games and tournaments.
Moneymaker at the 2003 WSOP
Chris Moneymaker is best known for his title at the WSOP Main Event in 2003 for a $2,500,000 score. Not only is the $2.5 million figure staggering, but what is even more unbelievable is the fact that Moneymaker actually qualified for the tournament online at PokerStars.com. Chris ended up turning a $39 buy-in into a $2,500,000 score.
The $39 satellite was an 18-man SNG which provided the winner with entry to another, 60-man satellite tournament. Moneymaker won the $39 sit and go, and then won again in the next sixty-man qualifier, which sent him to the Las Vegas for the WSOP Main Event.
Once the time for the Main Event came around, Moneymaker found himself in one of the most nerve-wrecking tournaments in the world. He was surrounded by the world's greatest players and professionals, and often made mistakes with blinds and position as he wasn't very experienced with tournament poker. However, with a little luck, and a few timely hands, Moneymaker made it all the way to the final table, where he crushed the competition with his huge chip stack and took home the $2.5 million first place prize and WSOP bracelet.
Life After the Main Event
Moneymaker instantly became a celebrity after the Main Event, as his story of turning $39 in $2,500,000 was heard around the globe. He now continues to adapt his life to the fame and fortune which the big win has provided.
Moneymaker has yet to capture another bracelet at the World Series of Poker, but has cashed in four other events and reached the final table at a World Poker Tour event along with two other WPT cashes. His earnings have now surpassed $3,000,000 (including the Main Event win).
Moneymaker recently wrote an autobiography titled "Moneymaker: How an Amateur Poker Player Turned $40 in $2.5 Million at the World Series of Poker" which was published in 2005. Chris now splits time between his home in Tennessee and Las Vegas, where he does poker commentary and continues to be involved in the poker industry.

Chris Moneymaker is now endorsed by PokerStars.com, meaning that he plays online exclusively at the site. If you want to play with Chris, sign up at PokerStars and search for his screen name, "Money800". If you do decide to sign up, make sure to use marketing code MIK500 to receive a 100% up to $600 bonus when you make your first deposit.
$600 Bonus at PokerStars with Marketing Code: MIK500
More Live Tournament Pros: