Annie Duke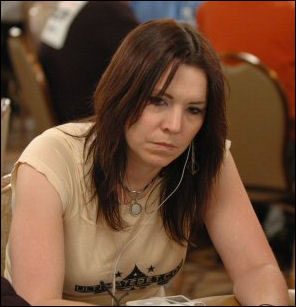 As one of the most successful female poker players to ever sit down at a table, Annie Duke has proven her poker prowess over and over. Duke grew up in a gambling family along with sibling Howard Lederer, and used her early gambling lessons to catapult a wildly successful poker career.
Annie received a solid education before leaving graduate school to pursue her poker career full time in Las Vegas. Her brother, Howard Lederer, took her under his wing and trained her in the ways of a poker grinder. Duke quickly picked up the game, and was making a solid living at the tables in no time.
Since then, things have really changed, as Annie has become the most profitable female poker player of all time. Also, Duke uses her position of power to help promote feminism in areas other than gambling. Most agree that Annie Duke is the best female player ever.
Annie Duke's Early Life
Annie Duke was born in Concord, New Hampshire on September 13, 1965. Gambling was in her roots right from the beginning, as brother Howard and the rest of her family played card games before she could even walk. Besides the gambling tradition, she was also born into a family of success, as her sister Katy has become a poet/author, her brother has become a professional poker player, and she also has become a renowned poker player.
Annie double majored in psychology and English at Columbia University. After graduating in four years, Annie received the NSF Scholarship which funded her graduate work at the University of Pennsylvania.
Shortly before her scheduled graduation at UP Annie received a proposal from long time friend Ben Duke. After accepting the proposal, Annie decided to leave school and pursue a full time poker career.
Annie's Poker Career
Annie began her poker career playing legal cash games in Billings, Montana. She was initially stakes by her brother Howard, but Annie quickly got the hang of things, and after a few sessions no longer needed an outside bankroll. After dominating cash games, she decided to take her game to the WSOP in 2000, and saw instant success.
Annie's first major cash came during that year's Main Event, as she placed 10th for a $52,000 score. Although she bubbled the final table, it was still an amazing accomplishment, especially considering the fact that she was eight-months pregnant at the time with her third child.
In 2004 Annie finally won her first major tournament, as she dominated the field in the Omaha Hi/Lo event to charge to a first place finish for $137,000. She was one of only three women to win a WSOP bracelet in 2004.
The first tournament that really put Annie into the spotlight was the Tournament of Champions at the WSOP in 2004. It was a 10-person winner-take-all tournament, and Annie outlasted a unbelievably tough field including Doyle Brunson, Phil Ivey, and Johnny Chan to take down the $2,000,000 first place prize. Annie actually knocked out her own brother (Howard Lederer) during the 2004 Tournament of Champions.
Duke's Personal Life
Besides being a player, Annie is involved in the poker world in a number of other ways. She is involved with TV shows including NBC's Poker After Dark, NBC's 1 vs. 100, and The Colbert Report. Also, Duke has taught celebrities such as Ben Affleck how to play the poker, and is endorsed by www.UltimateBet.com.

If you are an Annie Duke fan and would love to play with her, we recommend checking out UltimateBet.com. Annie is endorsed by the site, and plays exclusively online at Ultimate Bet. You can find Annie playing high stakes cash games as well as nosebleed multi table tournaments.
If you decide to sign up at UltimateBet.com, make sure to use referral code POKERSITEORG for a 111% up to $1,100 bonus on your first deposit.
$1,100 Bonus at Ultimate Bet with Referral Code: POKERSITEORG
More Live Tournament Pros: