PartyPoker.com Bonus Codes
We have three Party Poker bonus codes available for our players, and each one offers a unique deposit bonus. For all the bonuses, you have to either be a new player at Party Poker, or be an existing player who has never made a deposit. To redeem your bonus create your account at PartyPoker.com, and enter any of the bonus codes below when Party asks you for a bonus code. After doing that, the bonus is automatically tracked to your account and will show up when you deposit.
| | |
| --- | --- |
| Bonus Size | Bonus Code* |
| 100% up to $500 Bonus | 500PS |
| $25 Fixed Bonus | 25PS |
*NOTE - We recommend using the 500PS bonus code in almost all situations. Very few players are better off using the other two codes, but if you read below you will find out when those codes are better.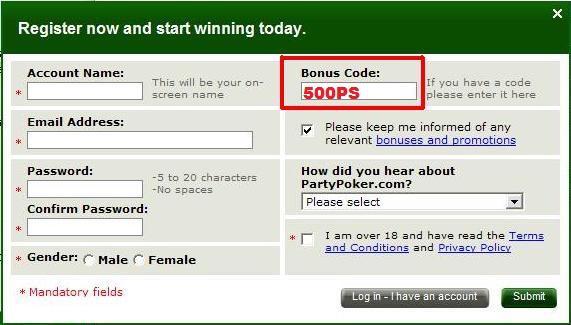 Details on Each Party Poker Bonus:
Since each bonus is a different size, each bonus code comes with different requirements when it comes to clearing the bonus. We'll start with the biggest bonus, and work our way down.
100% up to $500 Bonus
To redeem this bonus, make a new account at PartyPoker.com using bonus code 500PS, and deposit at least $25. Regardless of the size of your bonus, it will be broken down into five chunks, and you clear each of the five chunks sequentially.
The bonus is cleared by accumulating PartyPoints, and every time you accumulate the amount of PartyPoints equal to your bonus, you will earn one of the five chunks. So, if you deposit $100, and earn 100 Party Points, you will earn $20 of your bonus. You have 90 days after depositing to clear the bonus before it expires.
30% up to $150 Bonus
This bonus is basically the same as above, but the match is only 30% up to $150. The only benefit of this bonus as compared to the $500 one is that you only have to earn four PartyPoints per dollar of bonus, as opposed to five PartyPoints per dollar in the above bonus. Once again, you have 90 days to clear the money before it expires. For more info on the best PartyPoker.com bonus codes, check out this bonus for PartyPoker.
$25 Fixed Bonus
This bonus makes sense if you are only depositing $25, because the clearing requirement is only four PartyPoints per dollar of bonus as compared to five points per dollar in the 100% bonus.
How to Earn PartyPoints
There are three ways to earn PartyPoints: by playing real money cash tables, by playing real money multi table tournaments, and by playing real money sit and go's. We'll discuss each method in depth right now:
» Earning PartyPoints at Cash Games
Party Poker has a really strange system for awarding PartyPoints. As opposed to awarding points based on rake, they base it on how many raked hands you play at different stakes. Instead of trying to explain it all, we'll just show you the charts.
Here's the chart for PartyPoint accumulation at fixed limit tables: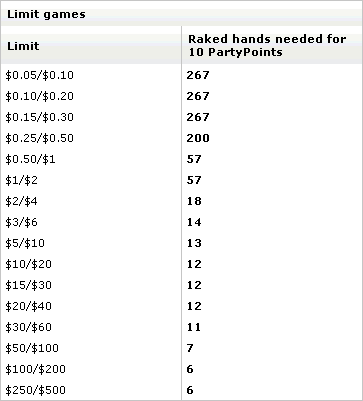 Here's the chart for PartyPoint accumulation at no limit or pot limit tables: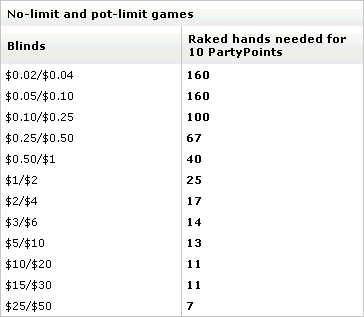 » Earning PartyPoints in Tournaments and Sit and Go's
The other way to earn PartyPoints is by playing tournaments and sit and go's for real money. Every time you buy into a tournament or sit and go, you pay a tournament fee to Party Poker. For example, if you enter a $10+$1 tournament, $10 goes into the prize pool and $1 goes to Party Poker as a fee.
Every dollar you pay in tournament fees is worth two (2) PartyPoints. So, if you enter a $20+$2 tournament, you'll earn four (4) total Party Points.
International Party Poker Pages: