Phil Hellmuth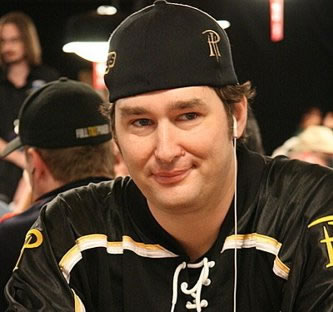 Anyone who watches poker shows on TV will probably recognize Phil Hellmuth, who has definitely earned his nickname "The Poker Brat". Hellmuth is detested for his obnoxious, uncalled-for comments at the table, as well as his arrogant and cocky attitude. Although most players view Phil as an egomaniac with a short temper, good players all recognize Hellmuth for what he really is: a top notch poker player.
Phil Hellmuth lays claim to the most WSOP bracelets ever, with a total of eleven WSOP wins. He has also realized success playing high stakes cash games, and claims to be a heads-up specialist. This article is going to take a look at Phil's upbringing, his poker career, and his major tournament wins.
Hellmuth's Early Life
Hellmuth was born in Madison, Wisconsin, and lead a fairly normal childhood. After graduating high school, Phil went on to study at the University of Wisconsin-Madison. While attending college, Hellmuth was introduced to poker at a friend's dorm room, and instantly fell in love. Phil played as much as he could with his friends, but then realized that he was better than everyone and needed a greater challenge.
Hellmuth left his college friends in the dust and started playing with professors, doctors, and businessmen in high stakes local games. After building up a bankroll, he quit college and moved to Las Vegas to play poker full-time. Phil's first Vegas trip was a disaster, as he got crushed at the tables and went broke quickly. Hellmuth moved back to Madison with his tail between his legs, but also with a new determination to learn the game.
After re-building his bankroll and convincing himself that he was good enough to make a living at poker, Phil returned to Las Vegas. This time he was able to make a small profit at the low-stakes cash games and started to pay off his school debts. Little did he know that he would soon become the youngest WSOP winner ever.
Hellmuth's Poker Career
After conquering the low-stakes cash games in Vegas, Phil decided to move up in limits and also started entering poker tournaments. In 1989 he decided to take a shot at the big leagues, and bought in to the $10,000 WSOP Main Event. Even Hellmuth knew he was playing above his bankroll, but he had grown sick of grinding the cash tables every day, and wanted to take a shot at a big score.
Hellmuth at the WSOP
Phil went on to win the 1989 Main Event at the age of 24, which made him the youngest WSOP Main Event winner ever (at the time). He took home $755,000 for his efforts, which allowed him to play in more major poker tournaments around the world.
Over the years, Phil had his most success at the World Series of Poker, as Phil won a total of eleven WSOP bracelets, had seventy-five WSOP cashes, and reached forty-one WSOP final tables. Hellmuth's WSOP wins (excluding the 1989 Main Event which was previously mentioned) include:
1992 $5,000 Limit Hold'em Event for $168,000
1993 $1,500 No Limit Hold'em Event for $161,400
1993 $2,500 No Limit Hold'em Event for $173,000
1993 $5,000 Limit Hold'em Event for $138,000
1997 $3,000 Pot Limit Hold'em Event for $204,000
2001 $2,000 No Limit Hold'em Event for $316,550
2003 $2,500 Limit Hold'em Event for $171,400
2003 $3,000 No Limit Hold'em Event for $410,860
2006 $1,000 No Limit Hold'em Rebuy Event for $631,863
2007 $1,500 No Limit Hold'em Event for $637,254
Surprisingly, Hellmuth has never won a WPT or EPT event. These WSOP wins along with Phil's other WSOP cashes leave him with a total WSOP winnings of nearly $6,000,000, which ranks him 6th of all time.
Hellmuth's Attitude and Controversy
Overshadowing all of Phil's accomplishments is his unique attitude and character. Hellmuth is best known for his loud mouth at the tables, and has been quoted saying "If luck weren't involved, I guess I'd win every one," and "I've revolutionized the way to play Texas Hold'em."

Hellmuth fans can find Phil playing online at UltimateBet.com. Phil exclusively endorses and plays at UB, and also maintains a poker blog at the website. If you want to watch Phil or even sit down at a table with The Poker Brat, download the Ultimate Bet software and do a player search for "Phil Hellmuth". If you decide to sign up, use referral code POKERSITEORG to receive a 111% up to $1,100 bonus on your first deposit at Ultimate Bet.
$1,100 Bonus at Ultimate Bet with Referral Code: POKERSITEORG
More Live Tournament Pros: