Sit and Go Strategy Guide
Online poker has brought about a major resurgence for sit and go tournaments. Since an online poker site doesn't have to pay dealers, it is profitable for them to run non stop sit and go's, and thousands of players join these single table tournaments every day. If you learn the correct sit and go strategy you can really make a killing, because all you have to do is play as many sit and go's as possible. If you can multi table sit and go's with the right strategy, your ROI will go through the roof. The below sit and go (SNG) articles will help you do just that:
General Sit and Go Articles:

Here are all of our basic sit and go strategy articles:
Specific Sit and Go Tutorials:

Read these articles to learn how to play in specific sit and go situations:
Biggest Sit and Go Mistake
One big mistake sit and go players make is trying to protect their stack and sneak their way into the money. This is incorrect for a variety of reasons. First of all, a lot of the time when you are protecting your stack you will end up dwindling away, and bubble the sit and go because you have so few chips. Also, when you do fold your way into the money, you will be crippled and almost always get third. And finally, since first pays so much more than second or third, you should always be playing for the win.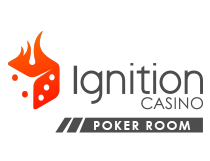 Ready to Use Our Sit and Go Strategy? -
Visit
Ignition.lv
Now that you have read our sit and go strategy articles, you probably want to take your new approach to the tables. If you want to play sit and go's online, we recommend playing at Ignition.lv - our top ranked sit and go poker site. Ignition features a slow progressing sit and go structure and soft sit and go competition.
Players can choose between Texas Hold'em (most popular), Omaha, Seven Card Stud, and other variations of sit and go's. You can play a Ignition sit and go for just a dollar, or you can choose to play high stakes sit and go's for big money. If you decide to sign up, feel free to use the link below to automatically receive a 110% up to $1,100 bonus on your first deposit.
$1,100 Bonus at Ignition Poker via this link
More Poker Strategy Guides: