Shaundeeb (Shaun Deeb)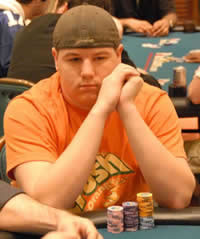 Shaun Deeb (known online as "shaundeeb" and "tedsfishfry") is a 23-year old poker player from Troy, New York. Shaun is one of the winningest online poker players ever, with an online tournament winnings total of over $3.5 million. He has also seen some success in live tournaments, but has yet to reach the level of accomplishment he's attained online.
When Shaun started playing poker, many players confused him with tournament pro Freddy Deeb. However, over the last few years Shaun has made it clear that he is his own man. Deeb (along with JJProdigy) happens to be among the most scrutinized online poker players in the world, for reasons we will discuss later.
This article is going to take a look at Shaundeeb's poker career, his biggest tournament wins, and also his latest controversies and rumors.
Where You Can Find Shaundeeb
Deeb plays online at most major poker sites, including PokerStars, Full Tilt Poker, Absolute Poker, and UltimateBet. He is known as "shaundeeb" at PokerStars and is known as "tedsfishfry" at Full Tilt, Absolute, and Ultimate Bet. Deeb can also be found playing high buy-in WSOP, WPT, and EPT events (now that he is of age).
For all his accomplishments, ShaunDeeb may be known most for his unique ability to multi-table. Most players consider three- or four-tabling as multi-tabling, but Deeb actually has been known to play up to thirty tournaments at the same time. Deeb is able to do this by using a dual monitor setup, and by utilizing his finely tuned poker skills in hyper-speed.
Shaun says that he has been able to play so many tournaments at once due to his immense amount of practice. No player should attempt this many tables at once until they have slowly built up one table at a time. Beginners should start with three to four tables, which keeps them busy but doesn't overwhelm them. Playing thirty tables will give you only seconds to make important decisions, and unless you are used to that kind of pressure, you will fail.
Big Scores by ShaunDeeb
Shaun Deeb has won some of the biggest poker tournaments online while playing under the names of "shaundeeb" and "tedsfishfry". Here are some of the biggest scores of Shaun's career:
1st Place in the $500 FTOPS NL Hold'em Event for $115,014
1st Place in the PokerStars Sunday Warm Up for $102,542
1st Place in the Full Tilt $1K for $84,259
1st Place in the PokerStars Super Tuesday for $53,546
One of Shaundeeb's most prized accomplish, however, does not have to do with a major tournament win. At one point Shaun decided to make a deposit of $30 and attempt to build it into as much money as possible. Nearly two weeks later, Shaun had turned the $30 into $30,000!
Deeb's Career and Rumors
Shaun is currently the number twelve ranked online tournament player in the world, according to PocketFives.com. Deeb has been ranked as high as number one (back in 2007). Deeb also recently made headlines by announcing that he was quitting tournament poker for a year, citing a lack of interest. Only time will tell if he really will take a break.
More Online Tournament Pros: