Moorman1 (Chris Moorman)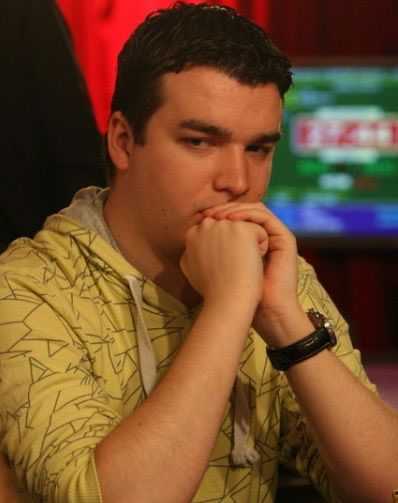 Chris Moorman (known as Moorman1 online) is one of the most successful online poker players in the world. He currently holds the record as a six-time PocketFives.com Triple Crown winner, and has quietly turned himself into one of the leading money winners in tournament poker. At only 24 years of age Chris is one of the top young players in the world, and we expect him to continue his success as he gains more experience.
Where You Can Find Chris Moorman
Chris plays at all of the major online poker sites including PokerStars, Full Tilt Poker, Absolute Poker, and Ignition Poker. Moorman plays at those sites under the following usernames:
Chris plays both multi table tournaments as well as mid stakes cash games at all of the sites above. If you'd like to play with Chris, click any of the links above, sign up, then search for the username listed for that particular site.
Moorman1's Poker Career
Chris Moorman started playing poker in college when he and a few friends discovered online poker freerolls and tried to make a few extra bucks playing them. After a few failed attempts, Moorman finally won $100 by making it deep into a freeroll. He turned the $100 into $300 by playing sit and go's and poker tournaments.
However, shortly after he earned the $300 he discovered cash games which he stated were "his downfall". After losing almost his entire bankroll at $0.05/$0.10, he put the rest of the money into a sit and go and got it back up to $120. From there, Chris started studying the game to learn how to play correctly.
At one point in Chris' online career, he used his entire $5,000 bankroll to buy into a $5,000 winner take all tournament. With his entire bankroll on the line, he battled his opponents to the finish. He chopped the tournament for $55,000.
Once Moorman started making money playing tournaments he had to sit down his parents and explain that poker was his passion, and that he wasn't going to be getting any "normal jobs" while in high school or college. At first they were concerned about him, but as he won more and more money they cared less and less that he wasn't taking the traditional route.
Nowadays Chris doesn't have to worry about money, and his parents are fully supportive. In fact, he's won over $1,000,000 in multi table tournaments since he started playing. Of course, that doesn't include his buy-ins (which would bring his total profit down), but that's still obviously a very large sum of money for a young man.
Some of Chris' biggest scores include his win in the FTP $1,000 Monday for $82,750, his final table in the FTP $750,000 GTD for $36,600, and the $5,000 winner take all tournament on PokerStars that he took down for $55,000.
More Online Tournament Pros: