PokerXFactor.com Review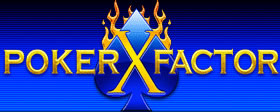 PokerXFactor is a community-based poker training website developed and run by professional poker players.
PokerXFactor (PXF) was founded by Cliff "JohnnyBax" Josephy and Eric "Sheets" Haber to give poker players of all pursuits – from the casual poker player to the player with a serious passion for the game – a place to learn, share ideas, and develop winning poker strategies.
PokerXFactor Training Videos
The PokerXFactor website offers a wide assortment of learning tools, including a complete training center with a massive database of instructional videos, created by a variety of professional poker players. There are hundreds of training videos, each of which uses the PokerXFactor hand replayer and provides audio commentary from one of the PokerXFactor professionals. This allows you to actually get inside the head of a poker pro, because you hear him/her explain why he/she made every move they did during the session.
Plus, by using the PokerXFactor replayer instead of .mov files, the videos load up and play instantly. Players will learn and improve extremely quickly at PokerXFactor, because the majority of their time will be spent watching tutorials instead of sitting and waiting for videos to load up.
Other Features at PokerXFactor.com:
Besides the main appeal of PokerXFactor, which is the poker tutorial videos, there are quite a few other features:
PokerXFactor Hand Replayer - Members can upload their hand histories, and instantly have them converted into a flash movie that will replay a single hand, a sit and go, or even an entire multi table tournament.
PokerXFactor Bankroll Manager - This is a tool that helps players effectively manage their bankroll, so they can resist the temptation of moving up to quickly, and reduce the risk of going broke.
PokerXFactor.com Forums - Members have access to the PokerXFactor forums, where they receive specific advice from the instructors about specific hands, situations, and plays.
PokerXFactor Featured Pros
PokerXFactor has one of the most respectable rosters of professional poker players who share their own experiences and strategic poker advice as part of the Instructional Video database. These include co-founders Cliff "JohnnyBax" Josephy and Eric "Sheets" Haber, along with featured pros Eric "Rizen" Lynch, Chris "Fox" Wallace, Adam "hatfield13" Stemple and Scott "BigRiskky" Clements.
Guest Pros

PokerXFactor Guest Pros include Chris "Beanmo" Mozingo, Michael "inissint" Glasser, Kevin "BeL0WaB0Ve" Saul, Chris "brsavage" Savage, Jon "PearlJammer" Turner and Mark "mscell" Scellato, with other instructional videos provided by Jon "apestyles" Van Fleet, Scott "mindwise" Pendergrast, , Chetna "Rex55" Joshi, Paul "uclabruinz" Smith, and many more.
PokerXFactor Membership
There are two types of PokerXFactor Memberships – Free Registration and Monthly Subscription:
Free Registration
Free members at PokerXFactor have access to the PXF Hand Viewer, an amazing hand history tool that allows you to upload and animate your hands in a flash movie. Free members may only upload a single hand at a time. You can also view the Pro Blogs and visit the PXF Store (apparel, eBooks, etc.), though registration is not required for this.
Subscription - $24.95/month
Subscribing to PokerXFactor opens up all other sections of the online poker training site, including the coveted PokerXFactor Training Center. You will have access to hundreds of Video Tutorials, Hand History tools, Pro Blogs, the Bankroll Manager, PXF Forums, as well as full access to the PXF Hand Viewer. Subscribing members can upload multiple hands from MTTs, SNGs, and cash games.
Initial Sign-Up Fee
First time members at PokerXFactor are required to pay a $119.95 activation fee to get their account up and running. Combined with the monthly subscription fee, the first payment totals $144.90.
More Poker Training Sites: