Todd Brunson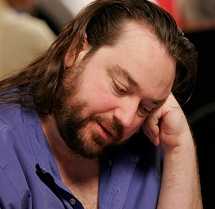 Todd Brunson has had a very impressive poker career, if only for the fact that he's been able to distinguish himself from his father, poker legend Doyle Brunson. No other player has grown up in a larger shadow, but Todd has done an awesome job at making a name for himself and building his career up slowly but surely. The rest of this article will look at Todd's poker and personal life.
Todd Brunson's Poker Beginnings
Todd began playing poker while he studied at Texas Tech University in Lubbock, Texas. Although many people may think differently, Todd began his poker career without the assistance of his father. Brunson played in college dorm games and by junior year in college Brunson realized he loved playing poker far more than studying for his degree, so he decided to drop out and play professionally.
At the age of twenty-one Brunson won his first major event at the Bicycle Club in Los Angeles. This cash for $200,000 gave Todd reason to continue on his path, and he began taking advice and studying his father's moves and strategies. From there on Brunson began his roll of final tables and cashes for the next twenty years.
Brunson's Major Cashes and Final Tables
Brunson has made a number of final tables in WSOP tournaments and other events. After his win at the Bicycle Club, Brunson had the following tournament cashes:
8th Place in the 1994 WSOP Limit Hold'em $1,500 Event
5th Place in the 2004 WSOP Omaha Hi/Lo $2,000 Event
1st Place in the 2004 Festa al Lago II NL Hold'em Event for $158,861
2nd Place in the 2004 Plaza Ultimate Poker Challenge $1,000 Event
5th Place in the 2004 Plaza Ultimate Poker Challenge $1,000 Event (Again)
These final tables do not include Brunson's 2005 WSOP Bracelet in the Omaha High/Low 8 or Better Event #21. Todd only has one bracelet so far, but his total tournament winnings exceed $1,000,000.
Brunson's Personal Life
Besides playing, Todd is also involved in the poker industry in a number of other ways, including writing for poker magazines and books including Michael Craig's The Professor, The Banker, and the Suicide King. Michael Craig described Brunson's major impact on Craig's poker team and what a vital member Todd was throughout the journey. Brunson was also featured in of Super System II.
Brunson was also involved in the major games that Texas Billionaire Andy Beal held with major poker players around the world. Brunson took millions from Beal, who attributed the losses to Brunson having a major read on him.
Brunson now resides in Las Vegas where he continues to play high stakes cash games and WSOP events.
More Live Cash Game Pros: