How to Play Online Poker on a Linux
Linux is an open source software that is an alternative to the Windows or Macintosh operating systems. Linux gives users a lot more freedom, but one drawback is that most online poker rooms do not supporting Linux. However, if you're on a Linux you can still play online poker as long as you stick to the poker sites on this page. There are a few ways to play on your Linux, and we're going to go over each method later down the page. For now though, here is our toplist of the best Linux poker sites:
The only poker site below that accepts USA players is Luvin Poker. For a list of alternative sites, please check our poker sites accepting US players.
Reviewing the Top Online Poker Sites For Linux Players

888 Poker is another Linux-compatible poker site, and just like Party Poker, they only service Linux players through their flash/Java poker client. 888 doesn't accept USA players, but as long as you're outside of the USA you'll be able to sign up and deposit with ease.
Also, Pacific has one of the best flash poker clients in the industry, as it looks and performs exactly like the downloadable version. Pacific is currently running a 100% up to $600 deposit bonus for all first time depositors. To redeem your bonus, use the sign up link below.
$600 Bonus at 888 Poker via this link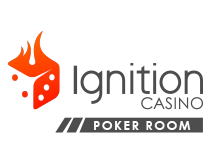 (

Accepts ALL USA Players)
Ignition Poker is at the top of our list for poker sites with Linux compatible software. The poker room accepts all players, including Americans, provides a wide spread of games and includes some great promotions. Ignition Poker provides 24/7 customer support, supports mixed games and has one of the best software platforms in the industry.
Receive our special Ignition bonus with a 110% match to $1100!
110% to $1100 Bonus Ignition Poker with Bonus Code: N/A - Use Links

Our second favorite Linux-compatible online poker site is PartyPoker.com. Unfortunately, Party Poker doesn't work that great when using Wine, so we recommend that you use the Java/Flash version of their poker room. This is a no-download poker room, which means that you play poker right in your Internet browser instead of downloading any software.
Although the graphics and game play might be a little worse than a typical download version, it's by far the simplest way to play online poker on a Linux computer. If you sign up at Party Poker, use bonus code PSITEORG to receive a 100% up to $500 bonus on your first deposit.
$500 Bonus at Party Poker with Bonus Code: 500PS

Winner Poker is definitely a great online poker site for Linux users. Winnern Poker is the only poker room on this list that Linux players can actually download and use like a normal program. To download the Winner Poker software you need to be using Wine, which is a separate program that allows Linux users to run Windows software without actually installing Windows. This is definitely the best option for playing at Winner. To learn more about Wine, scroll down the page. If you sign up at WinnerPoker.com, using our bonus code TOPBONUS you qualify for a $2000 sign up bonus.
$2000 Bonus at Winner Poker with Bonus Code: TOPBONUS
Options for Playing Poker on a Linux
As I mentioned earlier in the article, there are basically three options for playing online poker on your Linux. The first option is to use Wine, the second is to play at a flash poker room, and the third is to install Windows onto your computer as a second operating system. We'll go over each option now.
Wine
Wine is the first option for playing poker on your Linux computer. To use Wine, follow the steps below:
Step #1 - Download Wine
To download Wine, click this link. Download the version of Wine that is appropriate for your computer.
Step #2 - Install Wine
To install Wine you'll have to go through the basic setup using WineTools. You will have to install and set up the Windows system programs as well as the TrueType core fonts. Once you finish this, Wine will launch.
Step #3 - Download the Poker Software
Choose one of the poker sites above and visit their site. Download the software by clicking "Download" on their homepage. We recommend choosing 888Poker.com, as they run best on Linux. Once you click "Download", a box will pop up asking if you'd like to save "Titan PokerInstaller.exe" - save it to start the download.
Step #4 - Install the Software
After you've saved the file, you'll need to run the command to start the installation. The format for the command is wine /tmp/Titan PokerInstaller.exe (if you download a different poker site, change the last part as necessary). To complete the installation, just click Next until it's done. NOTE - make sure you are installing to the C:\ drive.
Step #5 - Reboot Wine
Now, just reboot Wine and you'll be good to go. To reboot you just need to use the command wineboot. You can now open up the poker software and start playing.
Flash Poker Room
The second option for playing poker on a Linux computer is to choose a poker site that offers a flash poker client. Our favorite flash poker room is PartyPoker.com. To get started, head over to PartyPoker.com and choose "Try Instant Play". That will launch the flash poker client, and you can get started.
Installing Windows
The third option for playing on your Linux is to actually install Windows as a second operating system, then download the poker room to the Windows part of your hard drive. This can get a bit complicated, so we'll leave it to the experts. Click here to learn how to install Windows on a Linux computer.
More Online Poker Toplists: