Mac Poker Sites
Those of you with Mac computers already know that it is difficult to find Windows programs with Mac versions that work on your computer. When it comes to online poker, nothing changes - almost every poker site only caters to Windows users. This is a huge problem for poker players with Macs, so we took the liberty of finding the best Mac poker sites so all of you have somewhere to play online poker.
There are basically three ways you can play poker on your Mac: by playing at a poker site with a flash (or "instant-play") version of their poker room, by playing at a poker site that offers downloadable Mac software, or by installing a PC emulator on your Mac so you can run downloadable Windows poker rooms. We discuss each option in-depth later on down the page. For now though, here are the top Mac poker sites:
| Rank | Poker Site | Bonus | Referral Code | Learn More |
| --- | --- | --- | --- | --- |
| 1. | | 100% up to $1000 | n/a - use link | Ignition Poker |
| 2. | | 25% Instant Bonus | n/a - use link | BetOnline Poker |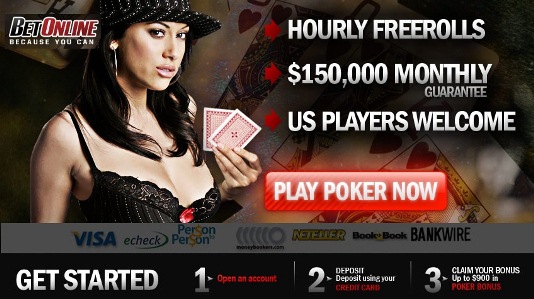 Both Bet Online Poker and Pokerstars (no usa players) have Mac-friendly poker software, while 888 Poker has a Flash poker room that Mac users can play on directly from their web browser. If you want to play poker on a Linux, check out this site for a complete list of Linux Poker Sites.Bet Online's and Pokerstars's Mac programs are exactly the same as their Windows programs, and have exceptional graphics and game play. Ignition's flash poker room is the same as their downloadable room, so Mac users will get the same experience as Windows users.
Playing Poker on a Mac

Like I mentioned before, there are three primary ways to play poker on a Mac. They are to download Mac friendly software, to play at a Flash poker room, or to use a PC emulator. All of them work perfectly fine, but each of them have their own advantages and disadvantages. We'll discuss each of these options now.
Downloadable Mac Software
The easiest method for playing online poker on a Mac is definitely to download either Bet Online Poker's or Pokerstars's Mac-specific poker software. The programs will always be on your Mac, one click away, and you won't have to open up our web browser every time you want to play poker. If for some reason you can't download the Mac software, the Flash version is still a viable option.
One drawback of downloading the software is that you'll have to use disk space on your computer, and that you'll have to download weekly updates from the poker room every time they update the software. However, these are small prices to pay for the convenience of a downloaded poker room.
Flash Poker Sites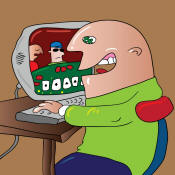 Flash poker rooms allow you to play online poker in your web browser without downloading any software. Although Mac users can't run Windows programs, they can still visit websites, so this is a perfectly suitable option for a poker player on a Mac.
Some advantages of using flash software are that you don't have to waste any disc space on your computer, and you won't have to download updates for the poker room because you'll always be playing on the latest version. Flash poker sites are also the best option for playing poker on Linux.
However, some drawbacks of using flash software are the fact that you usually won't get have as nice of a visual experience, and the software may be slightly jerky and not as smooth as a normal downloaded room.
PC Emulators
PC Emulators allow players to run Windows-only software on a Mac computer. Basically you are running a version of Windows on the Mac, and running the Windows program through the Windows operating system. One drawback to these programs is the fact that some have a price tag attached to them.
If you have a PC emulator on your computer, you can run any Windows-friendly poker room so it solves your online poker woes completely. Here are a few of the most popular PC emulators:
Boot Camp

Boot Camp is Apple-designed software that is included in the Leopard operating system. It allows Mac users to easily install a Windows operating system on their Mac, while still keeping the Mac operating system as well. This software is free with any Mac computer.

iEmulator

iEmulator is another popular PC emulator for Macs. It allows Mac users to run various Windows operating systems, including Vista, as well as several versions of Linux. The software is $23.95, and can be purchased here: Get iEmulator
Mac Poker Graphics and Game Play
Many players always ask us, "Is Mac Poker software any good?" Well, the answer is that it depends. If you play on a downloadable Mac poker room, you're guaranteed to get a great experience that is the same as what the Windows players are getting. However, if you play at a flash poker site you're probably getting a lesser experience then a player who is playing at the same site but using the downloaded Windows software. Also, if you're on a Windows emulator you might lag a little because of the emulation, but it still is fairly good overall.