TitanPoker.com Bonus Code
Titan Poker offers players a 200% up to $1000 deposit bonus when you use bonus code PSORG at sign up. This bonus is only for new players, or existing players who have never made a deposit at TitanPoker.com. To redeem the bonus, make a new account at TitanPoker.com with bonus code PSORG, and make a real money deposit. Check out the below image to see how to enter the bonus code:
TITAN POKER BONUS CODE =

PSORG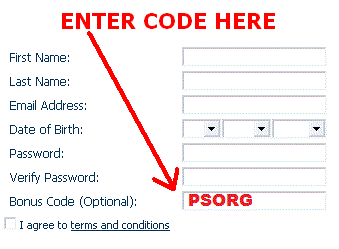 Details on the Titan Poker Bonus:
After using our bonus code at sign up and making your first deposit, you'll notice that the bonus money is held in a separate account from your deposit money. The reason for this is because the bonus money isn't actually yours until you "clear" it. Once the bonus money is cleared from the pending bonus account into your cashier, you are free to wager or withdraw it. To clear the bonus, you simply have to earn Titan Poker Points by playing real money poker at TitanPoker.com.
Titan Poker Points are the system used by Titan to determine the rate at which you receive your bonus. Every time you earn 600 Titan Poker Points you'll release a $5 increment of your bonus. You'll continue releasing $5 increments until you either clear the entire bonus or it expires. Now we'll explain how to earn Titan Points, and how hard it is to fully clear the bonus.
How to Earn Titan Poker Points:
There are three ways to earn Titan Poker Points - by playing real money cash games, by playing real money tournaments, and by playing real money sit and go's. We'll go over each method now.
» Earning Titan Poker Points at Cash Games
The first way to earn Titan Points is by playing real money cash tables. Every time that a pot is raked, each player who was dealt into the hand will receive points. It's important to note that you always receive points as long as you're dealt in - it doesn't matter if you fold preflop or go to a showdown, you'll still get your points if the pot is raked. Here is a chart showing how many points you earn per hand, depending on how much rake is taken from the pot: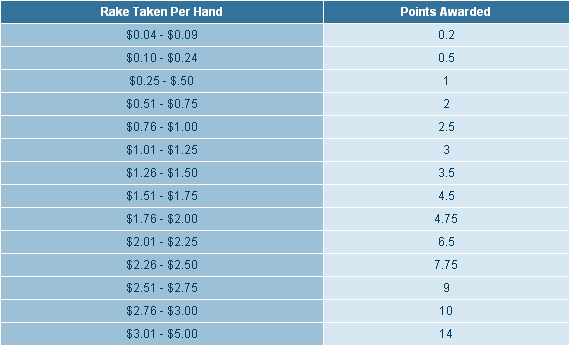 » Earning Titan Poker Points in Tournaments and Sit and Go's
The other way to earn Titan Points is by playing real money MTT's or sit and go's. Titan awards points based on how much money a player pays in tournament fees. Tournament fees are the fees you pay to Titan for hosting the poker tournament - for example, in a $10+$1 tournament, $10 of your buy-in goes to the prize pool, and the remaining dollar goes to Titan as a fee.
Every dollar you pay in tournament fees is worth 17 Titan Poker Points. So, if you enter a $20+$2 tournament, you'll earn 34 Titan Poker points. Or, if you enter a $100+$9 tournament, you'll earn 153 points.
Miscellaneous Info:
Here is some other info you should know about our Titan Poker bonus code:
The Titan Poker bonus expires three months after your first deposit. If you haven't cleared the bonus by that time, any remaining bonus money will expire. You keep any bonus money you have cleared to that point, of course.
Players who deposit in British Pounds or Euros will receive their bonuses according to the maximum US dollars amount ($1000) and converted automatically to their own currency.
You can view your current balance, pending bonus balance, and points balance at the cashier.
If you deposit $1000 or more to take full advantage of the $1000 match bonus, you will need to earn 60,000 Titan Poker points to fully clear the bonus.
» Redeem the TitanPoker.com bonus with Bonus Code

PSORG
Quick Titan Poker Facts:
Here are some quick and interesting facts about Titan Poker.
Titan Poker was established in 2005 and is located in Gibraltar.
Titan Poker does NOT accept any USA poker players for real money gambling. If you're in the USA, check out our list of USA-friendly poker sites.
Titan Poker is on the iPoker Network, which is the third largest poker network in the world. Learn more at our full Titan Poker review.
International Titan Poker Pages: