PKR.com Bonus Code
We've lined up two unique bonuses for players signing up at PKR.com with our bonus codes. By using any of the bonus codes listed below, you are guaranteed to receive the sign up bonus we have listed. These PKR Bonuses are available to both players who are just signing up, as well as existing players who have yet to make a deposit. To use one of our PKR bonus codes , make an account at PKR.com, and enter one of the bonus codes below when you make your first deposit. That will ensure that the corresponding bonus is tracked to your account.
| | |
| --- | --- |
| Bonus Size | Bonus Code |
| 100% up to $600 Bonus | PK800 |
| 100% up to $2,000 Bonus* | PK800 |
*Make sure to read this page for details on redeeming the $2,000 bonus.
To use any of the above PKR bonus codes, simply sign up at PKR.com, download the poker software, and go to the Cashier to make your first deposit. At that point you will be asked for a bonus code, as shown below. Enter the bonus code above that corresponds with the bonus you'd like to redeem, and you'll be all set!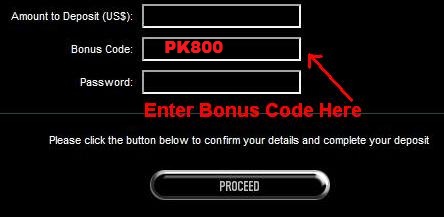 Details on Each PKR Poker Bonus:
After you make your deposit, the bonus money will be placed in a Pending Bonus account where it will be held until you earn enough PKR points to redeem your bonus. After that you are able to play with the money, or cash it out if you'd like. Here are the details on each bonus, and the clearing requirements for each one as well.
Remember that you have to actually clear each bonus before you can wager or withdraw the bonus money.
» 100% up to $800 Bonus

The 100% up to $800 bonus is a match on your first deposit at PKR.com. To qualify for this bonus, you have to deposit at least $10, and use bonus code PK800 at deposit. To clear this bonus, you have to earn 225 PKR points for every dollar in bonus money you have. If you deposit the full $800, you'll have to earn 180,000 total PKR points. This bonus expires after 60 days.

» 100% up to $2,000 Bonus

The 100% up to $2,000 bonus is different from the other bonuses, and requires a few special steps. We've outlined the entire process on our PKR $2,000 bonus page, so head to that page to learn all the details and requirements.

» Six $1,000 Freeroll Tickets

Players who use either of our bonus codes also receive entry to six $1,000 freerolls, which are held once a week. These freerolls are only open to new depositors who still have their tickets, so they have small player fields and are a great way to boost your bankroll after depositing.
How to Earn PKR Points
There are basically three ways to earn PKR points - by playing real money cash games, by playing real money tournaments, and by playing real money sit and go's. We'll go over each method now:
» PKR Points at Cash Games

The first way to earn PKR points is by playing real money cash tables. PKR has a wacky system for calculating points earned, but basically the more money is raked the more points each player will get. Every penny that is raked is worth one PKR point, so if a pot is raked $1 a total of 100 points will be distributed. Things get tricky when PKR actually distributes those points.
Instead of giving each player an equal share, PKR breaks it up based on how much money you contributed to the pot. If you contributed 1/4 of the pot, you get 1/4 of the points. If you contributed 1/10th of the pot, you get 1/10th of the points. Let's look at an example:
Say there was a $100 pot that was raked $2.50. Since $2.50 was taken in rake, 250 total points will be distributed. Imagine that you played this pot, and contributed a total of $20. Since $20/$100 is 1/5, you'll receive 1/5 of the total points, or, in this case, 50 points.
» Redeem the PKR.com bonus with Bonus Code

PK800
» PKR Points in Tournaments and Sit and Go's

The other way to earn PKR Points at PKR.com is by playing real money tournaments and sit and go's. PKR decides how many points you get by measuring the amount of tournament fees you pay. For those of you who don't know, tournament fees is the money you pay to the poker site for hosting the tournament. For example, in a $10+$1 tournament, $10 goes into the prize pool and $1 goes to the site as a fee.
PKR awards players with 100 PKR points for every $1 paid in tournament fees. So if you play a $100+$9 sit and go, you'll earn 900 points. Or, if you play a $50+$5 tournament, you'll earn 500 points. Partial points are awarded as well, so a $5+$0.50 sit and go will earn you 50 PKR points.