MansionPoker.com Bonus Code
Use Mansion Poker bonus code SUPERBONUS to receive a 100% up to $500 bonus on your first deposit at the Mansion Poker room. This bonus is available for all new depositors at the MansionPoker.com website. When you sign up at Mansion Poker, you will be asked for a "bonus code". Input code SUPERBONUS into the form, and the $500 bonus will automatically be tracked to your account. The image below shows you where to type in the Mansion Poker bonus code.
MANSION POKER BONUS CODE =

SUPERBONUS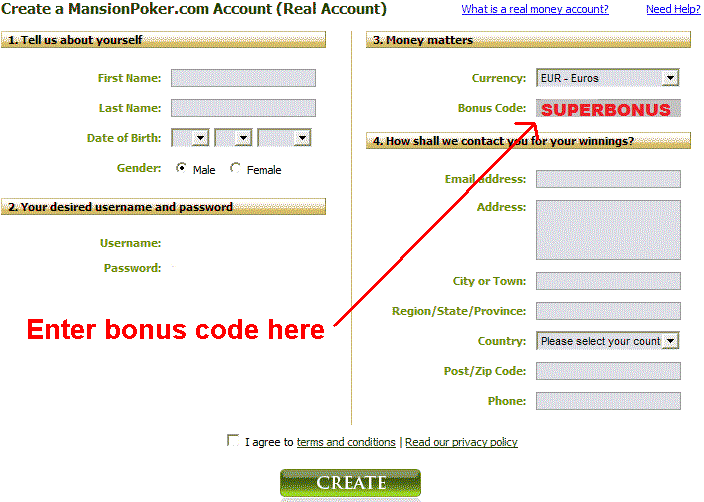 More Info on the Mansion Poker Bonus
After you sign up with our Mansion Poker bonus code and make your first deposit, your bonus money will be held in a separate account until you "clear" the money. To clear the bonus, you simply have to earn Mansion Club Points by playing real money poker games at MansionPoker.com.
Every time you earn 1000 Mansion Club Points (MCPs for short), you will release $10 from your bonus balance to your real money balance. If you would like to learn exactly how to earn MCPs, skip further down the page.
Hint - Mansion Poker makes you clear the bonus to prevent bonus fraud. If there were no clearing requirements, players could simply deposit, receive their bonus, then withdraw, and Mansion would be out of up to $500. By requiring you to play a little poker, Mansion ensures they receive at least some of the bonus money back through the rake.
Once you have cleared your bonus money, the money is yours to wager or withdraw as you please.
Earning MCPs at Mansion Poker
There are three ways to earn MCPs at Mansion Poker - by playing real money cash games, by playing real money sit and go's, and by playing real money multi table tournaments. We will discuss each way now:
» Earning MCPs at Cash Games
The first way to earn MCPs is by playing real money cash games at Mansion Poker. You have a chance to earn MCPs every time you are dealt into a real money hand, even if you fold preflop and don't contribute any rake. Each player at the table earns MCPs based on the total rake taken from the pot. Here is a chart showing how many MCPs each player earns based on different amounts of rake: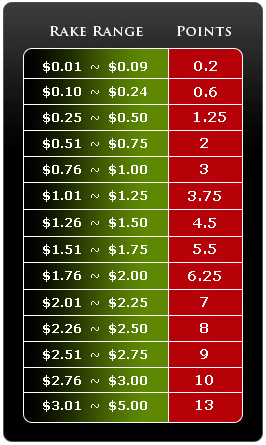 Obviously, the higher stakes you play, the faster you will earn MCPs, and thus, clear your bonus. Remember that even if you fold preflop, you can still earn MCPs as long as the pot is raked at the end of the hand.
» Earning MCPs in Sit and Go's and Tournaments
The other way to earn MCPs is by playing real money sit and go's and tournaments at Mansion Poker. Every time you enter a sit and go or tournament, you pay tournament buy-in, which goes directly into the prize pool, and a tournament fee, which goes to the poker site. For example, if you enter a $20+$2 tournament, $20 goes into the prize pool while the poker room keeps the other $2.
Every dollar you spend on tournament fees at Mansion Poker is worth twenty MCPs. So, if you enter a $20+$2 tournament or sit and go, you will receive forty MCPs ($2 tournament fee x 20 MCPs/dollar).
Miscellaneous Info:
The Mansion Poker bonus expires sixty days after your first deposit. Any remaining bonus money disappears.
Mansion Poker bonus code SUPERBONUS is only good for your first deposit. If you would like to redeem a bonus on further deposits, you will have to wait for Mansion to offer a reload bonus.
When Mansion does offer reload bonuses, they almost always have the same clearing requirements as the initial deposit bonus (1000 MCPs per $10 of bonus).
This page was created on November 9, 2009. Learn more about Mansion by reading our Mansion Poker review.
» Redeem the Mansion Poker bonus w/ Bonus Code

SUPERBONUS
Quick Mansion Poker Facts:
Mansion Poker was established in 2004 and is currently located and licensed in Gibraltar.
Mansion Poker does not accept American players at this time. If you are from the USA, see these USA poker sites.
If you are outside of the USA, you can deposit with your Visa or MasterCard.
Mansion Poker is the premier room on the iPoker network. Learn more about the Mansion Poker software.