CakePoker.com Sign Up Code
Use Cake Poker Sign Up Code CAKEPS to receive a 110% up to $600 bonus upon your first deposit at Cake Poker. This bonus is only for new players or existing players who have never deposited at Cake Poker. When you create your account at Cake, you will be asked for a Sign Up Code to determine who referred you to the site. When you enter our Cake Poker sign up code, Cake will realize you came from PokerSite.org, and will ensure you receive our 110% up to $600 deposit bonus. See the image below for more information:
CAKE POKER SIGN UP CODE =

CAKEPS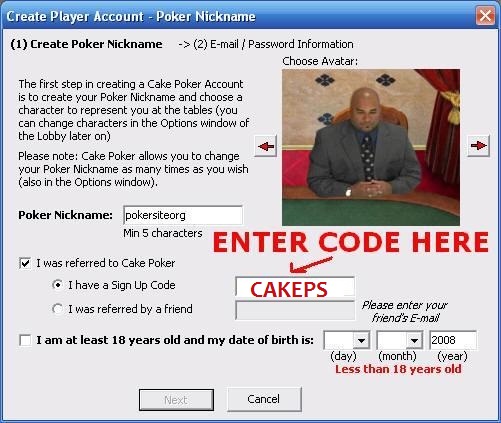 More Info on the Cake Poker Bonus
After you use our Cake Poker sign up code and make your first deposit, you'll notice the bonus money will be held in a separate account titled "Pending Bonus". This simply means that you have to clear the bonus money before you can wager or withdraw it. To clear your bonus, you have to play real money poker with your deposit money, and the bonus will gradually transfer from your pending bonus account to your normal cashier.
The rate as which you clear your bonus is determined by your Frequent Player Point (FPP) accumulation. As you earn more FPPs, you'll release more of your bonus. At Cake Poker the bonus money is always released in $10 increments, or less than $10 if you only have a few dollars left in your pending bonus account. Also note that each FPP is worth $0.06 of your bonus money, so you need to earn 166.6 FPPs to clear each $10 increment.
How to Earn FPPS at Cake Poker
There are three ways to earn FPPs at Cake Poker: by playing real money cash games, by playing real money sit and go's, and by playing real money multi table tournaments. We'll review each method now:
» Earning FPPs in Cash Games

The first way you can earn FPPs at Cake Poker is by playing real money cash tables. Every time rake is taken from the pot, each player who was dealt into the hand will receive FPPs. If $1 of rake was taken, each player who was dealt in will receive 1 FPP. If $2 of rake was taken, each player who was dealt in will receive 2 FPP's.
Also, fractional FPP' are distributed, so if the rake is $1.50 each player who was dealt in will receive 1.5 FPPs. Make sure to note that you don't actually have to see the flop to earn FPPs: as long as you were dealt in at the start of the hand, and rake was taken, you'll earn FPPs.
» Earning FPP's in Tournaments and Sit and Go's

The other way to earn FPPs is by playing in real money tournaments or sit and go's. The rate of FPP accumulation is the same for both multi table tournaments and sit and go's, so we combined them into one section. Every time you buy into a tournament or sit and go you pay a "tournament fee". If you play a $5+$0.50 tournament, $5 is going to the prize pool and $0.50 is going to Cake Poker as a tournament fee.
The tournament fee determines how many FPPs you earn. For every dollar you pay in tournament fees, you'll earn seven (7) FPPs. So, if you enter a $30+$3 tournament, you'll earn 21 FPPs. Or, if you enter a $50+$5 sit and go, you'll earn 35 FPPs. Also, fractional FPPs are distributed, so if you play a $3+$.30 sit and go, you'll have earned 2.1 FPPs.
Miscellaneous Info:
Some other important facts to note about the Cake Poker bonus:
The bonus expires 90 days after your first deposit. You'll lose any bonus money you have remaining at that time.
Our Cake Poker Sign Up Code is only good for your first deposit. Since you can only have one account at Cake Poker, this bonus is a one time offer.
Cake Poker will often offer reload bonuses with the same clearing requirements as the initial deposit bonus. Reload bonuses can be redeemed by anyone who makes an additional deposit during the specified promotional period.
This page was updated on November 1, 2009, so the info is current and our bonus is still available.
» Redeem the Cake Poker bonus w/ Sign Up Code

CAKEPS
Quick Cake Poker Facts:

Cake Poker was established in 2005 and is located in the Netherlands Antilles.
Cake Poker accepts all players from the United States, and is open to all other nations as well.
Cake Poker accepts Visa and MasterCard for deposits, even from players located in the USA.
Cake Poker is the face of the Cake Network, which includes other sites like Sportsbook.com, PlayersOnly.com, and CardSpike.com. Read our Cake Poker review, or download Cake Poker.