AbsolutePoker.com Review
AbsolutePoker.com is a well known online poker room that recently merged with Ultimate Bet Poker. Absolute accepts all American players, processes credit card deposits, and offers a 150% up to $500 bonus to all new depositors.
USA Players Please Read - Absolute Poker does not accept USA players. Please see our list of US accepted poker sites.
Poker Room: Absolute Poker
Website: AbsolutePoker.com
Location:Costa Rica
Established:1999
Bonus Size:150% up to $550
Bonus Code:

PSITEORGAP

Traffic:22,115 Players Online
Mac Friendly:Yes

Overall:

8.78

Software:

9.0

Promotions:

9.2

Games:

9.0

Tournaments: 8.2
Rewards: 9.3
Video Review of Absolute Poker:
If you would like a quick look at Absolute Poker, press play to watch the Absolute Poker video review below. Or, you can scroll down and read our full textual review of the site.
Ready to Play? Visit www.AbsolutePoker.com and use referral code PSITEORGAP for your $500 bonus.
Absolute Poker Overview (8.78/10.0):

Absolute Poker (www.AbsolutePoker.com) is an established online poker room that recently merged with Ultimate Bet, and is now part of the Cereus Poker Network. Absolute welcomes USA players and has a good flow of traffic. Many players are attracted to Absolute because of their great bonuses, promotions, and rewards - all of which will be discussed later in this review. Also, Mac users will enjoy playing at Absolute Poker because Absolute is one of the few online poker sites that offer Mac software.
This review is going to take a look at Absolute Poker's software, promotions, cash games, tournaments, rewards program, customer service, and deposit/withdrawal methods. Read on to learn more.
Absolute Poker Software (9.0/10.0):
Absolute Poker has always had very good poker software, and currently offers both a Windows and a Mac version of their poker room. The lobby of the poker client is neat, and it is quite easy to find the game you are looking for. You can easily filter the games using a selection of tabs that are located on the top of the lobby.
Tabs are marked for Hold'em, Omaha, Stud, Mixed Games, Tournaments, Sit and Go's, Tournament Blackjack, and the Absolute Casino. Each tab has additional sub-tabs to make finding the right game even easier - for example, after selecting "Hold'em" you can then choose from No Limit/Pot Limit, Fixed Limit, and play money games.
If you would like to sort the lobby results even further, there is a final filter that will let you narrow the tables down to exactly what you are looking for. Here is a screen shot of the Hold'em filter:

The final filter makes it a cinch to find the exact game you are looking for. For example, if you select Hold'em, then No Limit/Pot Limit, then 6 Players/9 Players/Deep Stack, minimum stakes of $0.01/$0.02, and maximum stakes of $0.10/$0.25, you will only see tables that are No/Pot Limit Hold'em with six or nine players and deep stack stakes, between the limits of $0.01/$0.02 and $0.10/$0.25.
Once you find the perfect game, double click it and the table will pop up in a new window. Players can choose from over a dozen table layouts, including a classic view, a table that is on a golf course, and a table that is on the roof of a skyscraper. Once you sit at the table you have menu options to access the lobby, cashier, recent hand histories, visual hand replays, blackjack, and more.
If you enjoy multi-tabling, Absolute Poker is perfect, as they let you have twelve tables open simultaneously. Another cool feature within the software is the 'Absolute Buddy', where you can see which of your friends are online so you can chat and play with them. The Bad Beat Jackpot amount is always shown on the left side of the lobby.
The only downfall of the Absolute Poker software are the almost daily software updates. I guess they do this to keep everything running smoothly, but it gets annoying if you are late for a tournament. Read this page to learn more about the Absolute Poker software and the Absolute Poker download.
Absolute Poker Promotions (9.2/10.0):
Absolute Poker offers quite a few promotions including their $500 sign up bonus, their bad beat jackpot, and their $10 million play money chip $50 offer. We'll discuss each promo now:
AbsolutePoker.com $500 Deposit Bonus
Absolute Poker offers all new players a 150% up to $500 bonus on their first deposit at the site. To redeem the bonus, visit AbsolutePoker.com and create an account with referral code PSITEORGAP. By using our referral code, you will be assured of receiving the $500 sign up bonus.
After you sign up and deposit, the bonus money will be held in a separate account until you clear the money. To clear the money, you have to earn STATUS points, which are Absolute Poker's version of frequent player points. Players can earn STATUS points by playing real money cash games, sit and go's, and tournaments at Absolute Poker.
Depending on your level in the FAME rewards program, you will earn $1 of your bonus at the following rates: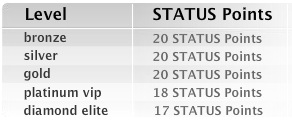 The bonus is released in $5 increments, and players have sixty days to clear the bonus before it expires. If you do not clear the entire bonus within sixty days of your first deposit, any remaining bonus money disappears. Learn more about the Absolute Poker bonus, as well as our Absolute Poker Referral Code.
AbsolutePoker.com Bad Beat Jackpot
Absolute Poker offers a Bad Beat Jackpot to reward players who are involved in very bad beats. To have a shot at the Bad Beat Jackpot, you need to be playing at a "Jackpot" or "Turbo Jackpot" table. These tables take a little bit of extra rake each hand to fund the Bad Beat Jackpot, which continues to grow until someone wins.
To trigger the Bad Beat Jackpot, one player most lose with four of kind eights or better. Also, both players in the hand must use both of their hole cards. If the Bad Beat Jackpot is triggered, the jackpot is allocated as follows:
25% rolls over to start the next Bad Beat Jackpot.
10% is retained by the house (Absolute Poker).
32.5% goes to the loser of the hand (the victim").
15% goes to the winner of the hand.
$1,000 goes to every other player at the table.
Remaining funds are divided between other players at a Jackpot table at the time of the bad beat. The players have to be playing the same game/stakes as the Jackpot winners' table to qualify.
At the time of this writing, the Bad Beat Jackpot at Absolute is over $100,000.
AbsolutePoker.com $10 Million Play Money Bonus
Absolute Poker offers an awesome $50 bonus to any player who accumulates $10 million in play money chips. When you sign up at Absolute you will receive $1,000 in play money chips that you can use at the play money tables. If you are able to build up to $10 million in play chips, you will receive $50 worth of real money. Because of this bonus, Absolute Poker received our award for the "Best Free Money Poker Site".
» For the $500 bonus and the Bad Beat Jackpot/$10 Million Chip Bonus, visit AbsolutePoker.com.
Absolute Poker Games (9.0/10.0):
Absolute Poker used to be a smaller poker room, but since merging with Ultimate Bet they have become one of the largest poker rooms online. At the time of this writing there are over 25,000 players online playing cash games, sit and go's and tournaments. Not surprisingly, Absolute Poker's most popular cash game is No Limit Hold'em.
The No Limit Hold'em stakes start at $0.01/$0.02 and run up to $200/$400 with a $70 ante. At the time of this writing, the biggest NL Hold'em game running is a $100/$200 heads up match. Cash games at Absolute are offered in heads up, four-handed, six-handed, and nine-handed variations. Also, players can sit at regular tables or "deep stack" tables where everyone can buy in for 200 big blinds instead of the normal 100 big blinds.
Other games offered at Absolute Poker include Omaha, Omaha Hi-Lo, Seven Card Stud, Seven Card Stud Hi-Lo, Razz, HORSE, and HOSE. These games do not attract as much player traffic as the Hold'em tables, but you can still find a game of any variety at any hour.
Absolute Poker Tournaments (8.4/10.0):
Absolute Poker offers six figures worth of guaranteed money every day, spread throughout a variety of poker tournaments. No Limit Hold'em tournaments are the most prevalent, but Absolute also offers Omaha tournaments, Seven Card Stud tournaments, Mixed Game tournaments, and more.
Some of the tournament highlights at Absolute Poker include the:
Daily $15,000 Guaranteed $55 Rebuy at 19:00 EST
Sunday $200,000 Guaranteed $215 Buy-in at 16:00 EST
Sunday $100,000 Guaranteed $530 Buy-in at 14:00 EST
Saturday $50,000 Guaranteed $320 Buy-in at 14:55 EST
And if you would rather play smaller poker tournaments, Absolute has plenty to offer. Every day there are several tournaments with buy-ins under $5, and these tournaments still have four-figure prize pools because so many players enter. Also, Absolute offers daily freerolls for those players who are still trying to build a bankroll. To start playing poker tournaments, head over to AbsolutePoker.com.
Absolute Poker FAME Rewards (9.3/10.0):
Absolute Poker has an excellent player loyalty program titled "FAME". The FAME program has five levels, starting with Bronze, then moving up to Silver, Gold, Platinum, and Diamond Elite. To move your way through the ranks, you have to earn Absolute Status Points. Here is a chart showing how many points you need to reach new levels:

As you reach new levels, you earn points faster. Silver members earn points at a 2x rate, Gold members earn points at a 3x rate, Platinum members earn points at a 4x rate, and Diamond members earn points at a 5x rate. To learn about the rewards and prizes FAME members receive, visit the Absolute Poker website.
AbsolutePoker.com Support Team
The support department at Absolute Poker is a bit lacking in that the only support offered is email support. There is no telephone support or live chat support. Absolute has an extensive collection of support information on their website including different email addresses for different types of questions.
AbsolutePoker.com Deposit and Withdrawal Options
Here are the deposit and withdrawal options that Absolute Poker offers for their online poker players:
| | |
| --- | --- |
| Deposit Options: | Withdrawal Options: |
| MasterCard, Visa, Maestro, MoneyBookers , Bank Transfer, ClickAndBuy, Click2Pay, PaySafeCard, UKash, Euro6000, InstaDebit, Check by Mail, Bank Wire, Neteller, CartaSi Card, PostePay, Laser, Giropay, EPS, POLi, 4B, iDEAL, Nordea, EntroPay | Check by Mail, Courier Check, Bank Wire, Western Union, eWalletXpress, MoneyBookers, Click2Pay, InstaDebit |
NOTE: Deposit and Withdrawal options that are italicized are USA-Friendly options.

Thank you for reading our review of Absolute Poker. If you like what you heard, and would like to redeem the 150% up to $500 bonus, head over to www.AbsolutePoker.com. Remember to use referral code PSITEORGAP to redeem your $500 bonus.
Remember that Absolute Poker offers the sign up bonus, the $100,000+ Bad Beat Jackpot, the $10 Million Play Money Bonus, thousands of poker tables with variations such as No Limit Hold'em, Omaha, Seven Card Stud, and HORSE, and the FAME rewards program. You cannot go wrong by choosing Absolute Poker as your online poker site.
$500 Bonus at Absolute Poker with Referral Code: PSITEORGAP