PlayersOnly.com Poker Review
PlayersOnly.com is a USA-friendly poker site on the Merge Poker network. Players Only offers a $1,000 sign-up bonus, a world class poker rewards program, and the highest credit card acceptance rate in the industry.
USA Players Please Read - Players Only Poker does not accept US players. Please see our list of USA poker sites.
Poker Room:Players Only
Website: PlayersOnly.com
Location:Gibraltar
Established:2006
Bonus Size:100% up to $1000
Bonus Code:

POKER$1000

Traffic:3,132 Players Online
Mac Friendly:No

Overall:

9.26

Software:

9.0

Promotions:

8.8

Games:

8.5

Tournaments:

8.5

Rewards:

9.5
Video Review of Players Only Poker:
If you would like a quick look at Players Only Poker, press play to watch the PlayersOnly Poker video review below. Or, you can scroll down and read our full textual review of the site.
Ready to play? Visit www.PlayersOnly.com for your $1,000 bonus.
Players Only Poker Overview (9.26/10.0):

Players Only Poker (www.PlayersOnly.com) is a fairly new poker room that launched in 2006 and is part of the Merge Poker Network. The poker room is a sister site of Sportsbook.com, and offers the same quality and support as the Sportsbook poker site. We like Players Only because they have a big 100% up to $1,000 sign up bonus, astounding support, and can easily process credit card deposits (Visa and MasterCard) from American players.
The software is sleek and easy to use, and we didn't encounter any technical glitches or errors during our test of the site. Also, Players Only happens to offer other gambling products such as an online casino, an online sportsbook, and an online horse race book. Please note that PlayersOnly.com only accepts players from the United States and Canada, so if you're not from the USA or Canada find a different European poker site.
Players Only Poker Software (9.0/10.0):
One of my favorite parts about the PlayersOnly.com poker room is their excellent software. As soon as you show up at the PlayersOnly.com website you know you're in for a treat, as even their website has great graphics and a certain allure to it (which might be caused by all of the beautiful women). After you click "Download" you'll start the installation process, which can be completed in less than a minute as long as you're on a decent connection.
Once you fire up the PlayersOnly.com software you'll be lead to the player lobby. The lobby lists a few of the upcoming promotions (current promotions include a $1,000 sign-up bonus and odds for the BCS championship game) and also shows upcoming multi table tournaments.
At the main lobby you can choose from a few options, including ring games, tournaments, cashier, rewards, my account, help, and also options to visit the sportsbook or casino. Since this is a poker review we'll focus on poker, and start out at the ring games:
The ring games list all of the current cash tables that PlayersOnly.com is running. Right now there are thousands of tables available starting at $0.01/$0.02 and running up to $500/$1,000, but at the time of this writing the biggest game running is $30/$60 Hold'em.
You can sort the tables by stakes, players seated, game, and other options. Also, you can filter games down based on No Limit, Fixed Limit, or Pot Limit, shorthanded, head- up, or full handed, and normal or turbo speed. This helps you find the game you're looking for right away.
If you go to the tournament lobby you can once again filter the tournaments down based on game, betting limit, and buy-in. Players Only does a great job getting players to the games they want in a quick and simple matter. This "Keep it Simple" attitude is apparent throughout the poker room, and is a great aspect of the site.
Once you find a game you like you'll be lead to the table, which has a deep red color and is very easy on the eyes. The table has the player controls at the bottom right of the screen, just where you would expect them. Full handed tables have ten players here instead of nine, so make sure to factor that into your strategy. Bet sizes are listed next to each bet, and the pot size is always listed in the middle of the table. On the bottom left of the screen is a chat box that can also be toggled to show you your stats for the current session, notes for each player, current promotions, or info about the current hand. Here is a screen shot of the table at the Players Only poker room: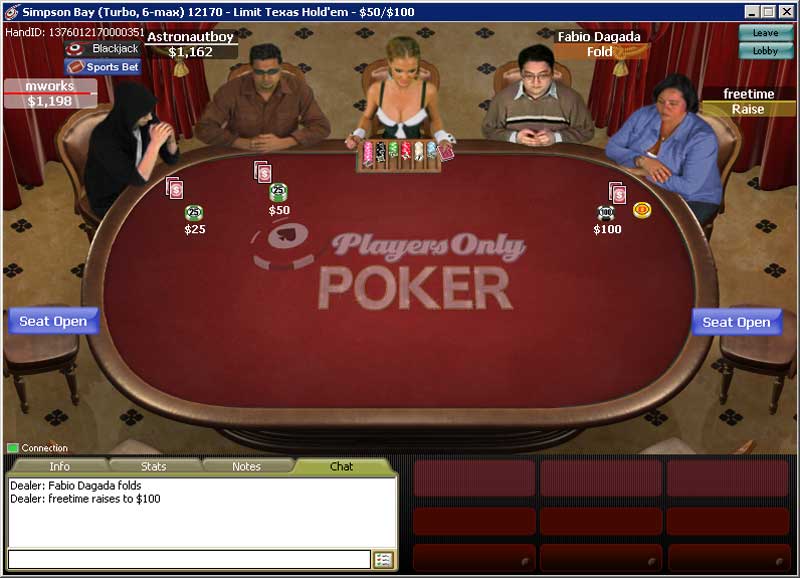 Everything is just where you'd expect it to be, and the table is clean and simple. Overall, we are impressed with the Players Only table and game play - there's nothing fancy, but there's nothing wrong either. Learn more about the software at our PlayersOnly poker download page.
PlayersOnly.com Promotions (8.8/10.0)
Players Only offers promotions including their $1,000 sign up bonus and their $50 refer-a-friend bonus.
$1,000 Players Only Bonus
Players only offers a 100% up to $1,000 bonus to all players making their first deposit at the site. To redeem the bonus, visit PlayersOnly.com through any of the links on this page, and enter promo code POKER$1000. By using our unique sign up link and the POKER$1000 promo code, you ensure that you will receive the bonus.
Once you use our link and deposit, you have to earn Frequent Player Points to release the bonus. To earn frequent player points you have to play real money ring games, sit and go's, or tournaments. At ring games you earn FPPs based on the rake contributed at your table, and at tournaments and sit and go's you earn FPPs based on the tournament fees. Every FPP is worth $0.06 toward your bonus, and the bonus is released in $10 increments.
Learn more about the bonus (and how to earn FPPs) at our Players Only promotion code page.
$50 Players Only Refer-A-Friend Bonus
Players Only also features a $50 Refer-a-Friend program that rewards players who refer their friends to the poker site. To qualify for the $50 bonus, the following conditions have to be met:
You must make a deposit at PlayersOnly.com before referring your friend.
Your friend must deposit at least $50 to qualify.
Your friend must play 100 raked hands of poker at PlayersOnly.com. If the 100 raked hands aren't completed in a week, you have to contact Players Only to receive the $50 bonus.
Referred players have a maximum of sixty days to play 100 raked hands, or the $50 bonus expires.
» To refer friends and redeem the $50 bonuses , use the referral form at www.PlayersOnly.com.
Players Only Poker Games (8.5/10.0):
As we mentioned before, Players Only is on the Cake Poker network, so they already have great player traffic even though they are only three years old. PlayersOnly offers Hold'em in No Limit, Pot Limit, and Fixed Limit, Omaha in Pot Limit and Fixed Limit, and Omaha Hi-Lo in No Limit, Pot Limit, and Fixed Limit.
Hold'em games start at $0.01/$0.02 and you can find full tables up to $5/$10 or even higher during peak hours. Omaha games start at $0.01/$0.02 and also run up to around $5/$10 or a little higher on weekends. Omaha Hi-Lo games start at $0.01/$0.02 and run up to $1/$2 - there isn't much Hi-Lo traffic here. During peak hours and on weekends you can find higher stakes games, but this review was written on a Monday night so there wasn't much going on as far as high stakes poker games.
PlayersOnly Poker Tournaments (8.5/10.0):
PlayersOnly offers all of the same tournaments as Cake Poker since they're on the Cake network. This includes the following highlights on the tournament schedule:
Daily Tournaments:
$50 buy-in $10,000 guaranteed
$109 buy-in $20,000 guaranteed
$33 rebuy $25,000 guaranteed
$55 buy-in $10,000 guaranteed
$33 rebuy $20,000 guaranteed (Monday - Friday only)
Players Only also has big tournaments on the weekend, including the Sunday $100,000 guaranteed and the once-per-mont Sunday $250,000 guaranteed which runs on the last Sunday of every month.
Players Only Poker Rewards (9.5/10.0):
Players Only runs one of the best poker rewards programs in the business. The rewards program is based upon accumulating Gold Cards and Gold Chips, both of which are earned by playing real money poker.
Gold Cards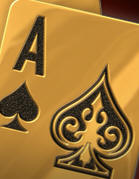 Players Only (and the rest of the Cake network) offers an ongoing promotion for accumulating "Gold Cards" at their poker room. For each Gold Card promotion, the player to collect the most Gold Cards in a calendar year wins $52,000. The promotion restarts every year, and all the players have a fresh shot at the $52,000 prize.
To earn Gold Cards you simply have to play real money ring games. Every time a certain amount of rake is taken from the pot, a Gold Card will pop up on the screen. If you are holding that same card in your hand you'll earn the Gold Card which is yours to keep. Besides just the $52,000 promotion, Gold Cards are also useful for buying into special Gold Card freerolls as well as exchanging them for real life merchandise.
The 2009 Gold Card promotion is about to wrap up, so sign up at PlayersOnly.com now to get in early on the 2010 Gold Card promotion.
Gold Chips/Gold Stacks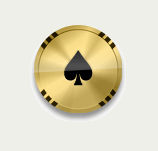 Gold Chips are another part of the rewards program at Players Only poker. As you accumulate frequent player points you'll also earn Gold Chips. The more Gold Chips you earn, the faster you'll accumulate subsequent Gold Chips. Gold Chips can be used to buy into special Gold Chip tournaments, to redeem real life gear from the Players Only poker store, or to enter cash tournaments.
Also, as you earn Gold Chips you will complete Gold Stacks, which are simply stacks of Gold Chips. You can visit the Rewards tab in the Cashier to see how close you are to completing the next Gold Stack. The first few Gold Stacks reward players with additional Gold Chips. The mid level Gold Stacks reward players with redeemable bonuses. The later Gold Stacks reward players with straight up cash bonuses, deposited directly into their player account.
PlayersOnly.com Support Team
The Players Only support team offers Live Chat, Toll Free Phone, and Email support. The site has some of the friendliest customer service representatives in the industry.
Players Only Deposit and Withdrawal Options:
Here are the deposit and withdrawal options at PlayersOnly.com:
| | |
| --- | --- |
| Deposit Options: | Withdrawal Options: |
| Visa, MasterCard, Cash Transfer, UseMyWallet, Moneybookers, NETeller. | Wire Transfer, Check, UseMyWallet, Moneybookers, NETeller. |
NOTE: Deposit and Withdrawal options that are italicized are USA-Friendly options.

Thank you for reading our review of the PlayersOnly.com poker room. If you like what you read, you can get started by heading over to www.PlayersOnly.com. Remember that Players Only poker is on the Cake Poker network, so they have plenty of player traffic (even during off-peak hours). Players Only also features their Gold Card and Gold Chip rewards program, which rewards loyal players with cash bonuses and free tournament entries.
Also, if you decide to sign up and deposit soon, you will receive the 100% up to $1,000 PlayersOnly poker bonus. To redeem the bonus, use promo code POKER$1000.
$1,000 Bonus at Players Only Poker through this link