CarbonPoker.com Bonus Code
Carbon Poker is currently offering all new players a 100% up to $750 bonus if they use Carbon Poker bonus code CPBONUS. In addition, all players who use our Carbon Poker bonus code will receive 14 days worth of entries into the daily $500 New Depositor freeroll. To redeem this bonus package, visit CarbonPoker.com, download the software, and enter bonus code CPBONUS when you create your player account. By using our Carbon Poker bonus code, you are assured of receiving your sign up bonus instantly when you make your first deposit.
CARBON POKER BONUS CODE =

CPBONUS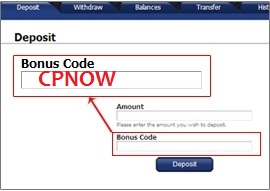 More Info on the Carbon Poker Bonus
Once you have created your new player account and used our bonus code to make your initial deposit, you will see that your bonus money is held in a separate bonus account. If you made the full deposit of $750 you will automatically receive $5 every time you get 375 VIP points.
Players earn VIP points by playing real money poker games at CarbonPoker.com.You need to earn 75 VIP points for every $1 of bonus money. All bonuses are paid out in $5 increments. So again, if you made the maximum bonus deposit of $750 you will be paid $5 120 separate times (every time you earn 375 VIP Points).
How to Earn Carbon Poker VIP Points
Players earn Carbon Poker VIP Points in three different ways: by playing real money cash games, by playing real money sit and go's, and by playing real money multi table tournaments. We will review each method now:
» Earning VIP Points in Cash Games
The first way to earn VIP points is by sitting at real money cash tables at Carbon Poker. Carbon Poker uses a slightly confusing system to award VIP points at the cash tables - basically, you earn 0.1 VIP points for every cent of rake that you personally contribute. This is different from most other online poker sites, where players earn points based on the table's rake - not just their personal rake.
To calculate your VIP points, Carbon Poker analyzes each pot and determines exactly how much rake you personally contributed. Then, they take that number and award you 0.1 points for every cent of rake you paid. Every $1 of rake you contribute is worth 100 VIP points.
» Earning VIP Points in Tournaments/Sit and Go's
The other way to earn VIP Points at Carbon Poker is by playing real money tournaments and sit and go's. Every time you enter a real money tournament or sit and go you pay a buy-in. This buy-in is your entry fee to the tournament. Most of the buy-in goes into the tournament prize pool, but a small portion goes to Carbon Poker as their profit. For example, Carbon Poker offers $11 sit and go's. In these sit and go's, $10 goes into the prize pool, while $1 is retained by Carbon Poker as profit (this profit is called a tournament fee).
Every dollar you pay in tournament fees is worth 100 VIP points. Also, partial points are awarded, so if you enter a $3+$0.30 tournament, you will earn 30 VIP points.
Miscellaneous Info:
Our Carbon Poker bonus code has no official expiration date, but if you make a withdrawal before clearing the entire bonus, any remaining bonus money will expire.
For every dollar that a player deposits, up to $750 will be matched 100% in bonuses with play through requirements.
This page is valid and current as of this update on January 21, 2010.
Although Carbon Poker offers side games like Blackjack and Video Poker, only poker games count towards the wagering requirements for this bonus.
The Carbon Poker bonus code we offer is only valid on an initial deposit from a new player. Carbon Poker occasionally offers reload bonuses. Learn more about their offers on our Carbon Poker download guide or by reading our Carbon Poker Review.
Quick Carbon Poker Facts:
Carbon Poker has been open since 2007 and is located in Canada.
Carbon Poker is part of the Merge Gaming Network which includes 38 other online poker rooms.
Carbon Poker is open to all USA players, as well as all other players, and features various deposit options.
Carbon Poker has a Bad Bead Jackpot that is currently over $250,000.